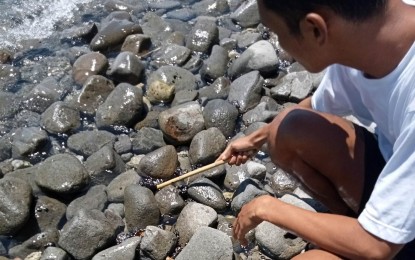 CITY OF CALAPAN, Oriental Mindoro – The oil spill that originated from a sunken tanker in Naujan town, this province, has reached a fish sanctuary in Barangay Lazareto here.
In an interview, aquaculturist Marius Panahon said several photos showing traces of oil monitored at the Harka Piloto fish sanctuary were given to the Calapan Fishery Management Office (FMO) on Thursday afternoon.
Panahon said the photos were taken Thursday morning by members of the Bantay Dagat (Sea Patrol) monitoring the sanctuary which is just a stone's throw away from Verde Island Passage, where the world's most critical marine biodiversity center is found.
As a marine-protected area (MPA), the Harka Piloto Fish Sanctuary is being actively protected by the community and the local government.
According to the city tourism office, it is surrounded by crystal blue waters teeming with rich marine life and is ideal for diving, snorkeling or just leisurely wading on the shores.
The tanker MT Princess Empress, carrying 800,000 liters of industrial oil, sank on Feb. 28 off Naujan town while en route to Iloilo from Bataan province after its engine overheated. (PNA)