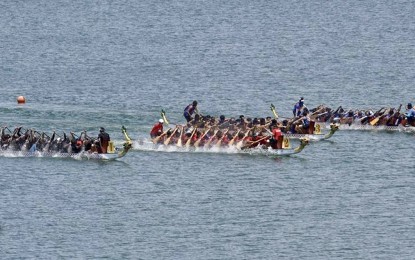 LAOAG CITY – Preparations are now ongoing for two dragon boat competitions to be held at the Paoay Lake Natural Park in Nagbacalan village in April and June.
"As of the moment, close coordination is now ongoing between the municipal government of Paoay and the Philippine Canoe Kayak Dragon Boat Federation (PCKDBF)," Ilocos Norte sports development officer Helen Rose Domingo said on Thursday.
This year, the PCKDBF is bringing the national athletes to Paoay Lake, a 387-hectare body of water located a few kilometers south of Laoag City, Ilocos Norte, or a 15-minute drive from the Laoag International Airport. No date yet for the June competition has been announced.
Also, the Paoay local government said Thursday that the third Paoay Dragon Boat Festival (PDBF), meanwhile, is set for April 29 to 30, 2023, ahead of the PCKDBF competition.
Open to all dragon boat club teams for men and women divisions, the registration is now ongoing for the small boat and standard boat categories of the PDBF.
"The festival aims to promote paddling sport to the younger generation and to let people discover the beauty of our lake as an ideal venue for water sports tourism," said Mayor Shiella Galano.
Since 2012, the Ilocos Norte government has developed the Paoay Lake as one of the leading attractions in the province and a popular venue for national and international rowing events until it was halted due to the pandemic.(PNA)