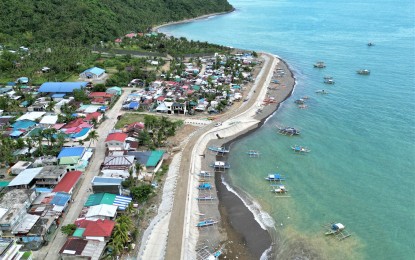 CITY OF SAN FERNANDO, Pampanga – The Department of Public Works and Highways (DPWH) has completed the construction of a seawall structure that will protect the fishing community in Dingalan, Aurora against storm surges.
DPWH Regional Office 3 Director Roseller A. Tolentino, in his report to DPWH Secretary Manuel M. Bonoan, said the PHP49-million, 355-lineal seawall is a complement to the existing concrete seawall at the Dingalan Feeder Port in Barangay Paltic.
Tolentino said the new seawall structure features roadway ramps, reinforced concrete pipe culverts for cross drainage, grouted riprap opposite the seawall and a gravel roadway over the embankment with a width of five meters.
Bonoan said building the structure is a necessity to ensure the protection of the local fishing community from storm surges and rising waters during heavy rains and bad weather as it directly faces Dingalan Bay.
"The new seawall also serves as a place where local fishermen can secure their boats during extreme weather conditions by mooring them next to the structure," he said in a statement.
In 2020, the onslaught of Typhoon Ulysses brought a seven-meter high storm surge that caused hundreds of boats to crash into homes in Barangay Paltic.
District Engineer Roderick Andal, meanwhile, said the DPWH is continuously undertaking infrastructure projects in Dingalan as part of the government's effort to promote disaster risk mitigation and preparedness.
He added that aside from flood mitigation structures, the agency has completed the construction of evacuation centers in some flood-prone areas in Dingalan, which is frequently visited by strong typhoons. (PNA)