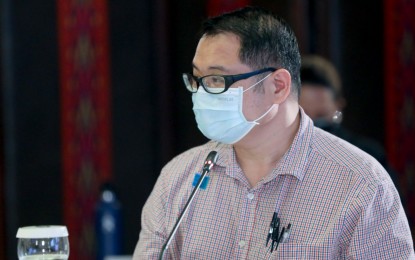 MANILA – Human immunodeficiency virus (HIV) infection must be treated like a communicable disease that can be prevented and tended to, according to infectious disease expert Dr. Edsel Salvaña.
During a televised public briefing Thursday, Salvaña said the stigma and discrimination among people with HIV or acquired immunodeficiency syndrome (AIDS) still persist globally, emphasizing that wrong beliefs on how it is transmitted are one of the factors leading to the rise in cases in the country.
"HIV is a sexually transmitted infection, and it can happen to anyone, hindi lang sa people who have sex with males, na men who have sex with men, mga ganoon (not only with people who have sex with males, men who have sex with men)," he said.
"Anybody can get HIV, kahit baby nga kung hindi nabigyan ng gamot iyong nanay (even babies born of mothers who weren't given medications)".
The Department of Health recently reported that 1,454 more individuals were confirmed to have contracted HIV in January this year, and 86 of them were adolescents and children.
Of the 86 cases, 79 were 10 to 19 years old and seven were children below 9 years old.
Most of the cases were acquired through sexual contact.
Since 1984, a total of 110,736 HIV cases have been recorded with 6,383 reported deaths.
"So, very important to learn about it, so that we can prevent it, and tanggalin po natin iyong stigma dahil wala naman po talaga, hindi naman ito kaparusahan ng Diyos (let us remove the stigma because there is none, it's not God's punishment)," Salvaña said.
"The bottom line is we have to see HIV as a biomedical illness and that it has a treatment, it has prevention. And kapag nakagamot din naman, hindi na rin nakakahawa as long as suppressed po iyong virus (And when treated, it could not infect other people as long as the virus is suppressed).
Earlier, DOH officer-in-charge Maria Rosario Vergeire said the government provides free testing and treatment for HIV.
She said medications such as antivirals could help people living with HIV to have long and quality life. (PNA)