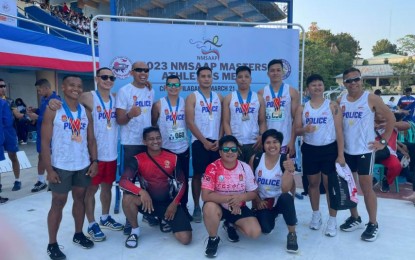 MANILA – Aside from their security skills, the Philippine National Police (PNP) athletics teams made their mark in the recently concluded 2023 Philippine Masters Athletics Championships.
Various athletes from different parts of the world, including Iraq, Vietnam, Indonesia, Singapore, and Thailand participated in the competition held at the Ilagan Sports Complex in Ilagan, Isabela last March 21, the PNP Public Information Office said in a news release on Friday.
The PNP Athletics Teams, headed by delegation chief Col. Marlou Roy V. Alzate, supervisor Lt. Col. Chona D. Panganiban and assistant coach Police Executive Master Sgt. Alfred Rivera and Staff Sgt. Eduard Dayo, showed an outstanding performance as they brought home a total of 14 golds, 11 silvers and 2 bronzes.
Among the notable medalists was Maj. Angelita Nastor, who bagged the gold medal in the 4x100 relay event, and Staff Master Sgt. Maricris Gammag, who secured three gold medals in the Javelin, Discus, and Shot Put events.
Master Sgt. Michael Pelaez also dominated in the long jump and 100-meter events, winning two gold medals, and another gold medal in the 4x100 relay event, together with Staff Master Sgt. Aaron Jaxen Banatao and PEMs Virgilio Aguila, who also took home individual gold medals in their respective events.
Other members of the PNP Athletics Teams who contributed to the team's success were Cpl. Jerson Galoso, Cpl. Francisco Robert, Cpl. Norman Flores, Master Sgt. Bryan Urayenza, Cpl. Eduard Antonio, Cpl Jahnzel Udaundo, Cpl. Ferlyn Dalida, and Cpl. Ligaya Dario, who all won either silver or bronze medals in their events.
With their impressive performance, the PNP Athletics Teams once again proved their dedication and commitment to their craft, as well as their excellence in the field of athletics.
PNP chief Gen. Rodolfo Azurin Jr. congratulated the police force's team for their outstanding performance in the 2023 Philippine Masters Athletics Championships.
"Congratulations to all the athletes and coaches for their impressive medal haul and for representing the PNP and the country with honor and pride. Their hard work, dedication, and determination have truly paid off, and they have showcased the excellence that the PNP is known for," Azurin said in a statement. (PNA)