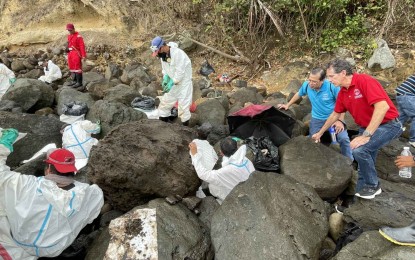 MANILA – The United States government is providing an additional PHP10 million (USD183,700) in assistance to support Oriental Mindoro's oil spill management and environmental assessment.
The US Embassy in Manila on Friday said the support would be used to train fisherfolk displaced by the fishing ban as "citizen scientists" who can conduct coastal habitat assessments in the province.
Through its partnership with the ABS-CBN Foundation Inc., the US Agency for International Development (USAID), will also assess and monitor the impact of the oil spill on the coastal communities in the Verde Island Passage.
USAID Philippines Mission Director Ryan Washburn had earlier handed over the first batch of personal protective equipment, hygiene kits, and spill cleaning supplies to Oriental Mindoro Governor Humerlito Dolor.
"Many communities in the province depend on the tourism and fisheries industries for their livelihoods, and we know that this makes the recent oil spill in your waters an even bigger crisis," he said during his visit to Oriental Mindoro this week.
"As your enduring friend, partner, and ally, the United States remains committed to support your journey to recovery, and to continue our partnership toward the protection and conservation of this region's rich coastal and marine resources," he added.
Dolor extended his gratitude for Washington DC's "timely assistance" and assured the country that Oriental Mindoro would maximize USAID's donations to reach as many families as possible.
The US government is actively assisting the Philippines' response to the oil spill.
Earlier this week, a team of experts from the US Coast Guard and the US National Oceanographic and Atmospheric Administration arrived in Pola town to provide subject matter expertise in the cleanup.
The US has also provided satellite imagery and modeling applications to help the Philippine Coast Guard and the University of the Philippines-Marine Sciences Institute estimate the trajectory of the spill. (PNA)