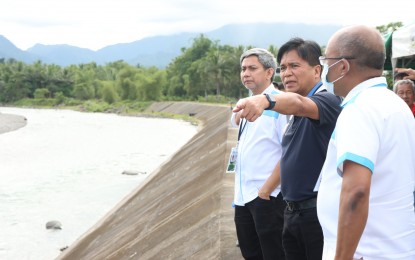 TACLOBAN CITY – The National Irrigation Administration (NIA) has bared its plan to rehabilitate the 60-year-old Tingib Dam of the Binahaan River Irrigation System in Pastrana, Leyte to ensure continued service to farmer-beneficiaries.
NIA Acting Administrator Eddie Guillen and key NIA regional officials visited the dam on Thursday to see the need to rehabilitate the structure.
"Recognizing the importance of irrigation in agriculture, Tingib Dam's mission to continuously improve the agricultural sector of Leyte province remains to be relevant," the NIA regional office said in a statement on Friday.
The Tingib Dam of the Binahaan River Irrigation System currently serves 5,726 hectares of farmlands in the towns of Pastrana, Sta. Fe, Alangalang, Palo, Dagami, Tabontabon, and Tanauan, serving 4,569 farmer-beneficiaries.
The agency has yet to disclose the timetable and the amount of the project.
In a press briefing, Guillen said he has been visiting regions to personally explain to farmers about the programs of their agency.
He also leads the conduct of the Regional Confederation of Irrigators Associations Business Opportunities and Convergence Forum in this city.
The forum provides a venue to strengthen the linkages and partnership of the agency with the farmers by promoting transparency in irrigation development and implementation of NIA's irrigation projects.
NIA strengthens convergence initiative projects that would promote a culture of unity among NIA officials and employees, national government agencies, non-government organizations, local government units, irrigators associations, farmers, and the public. (PNA)