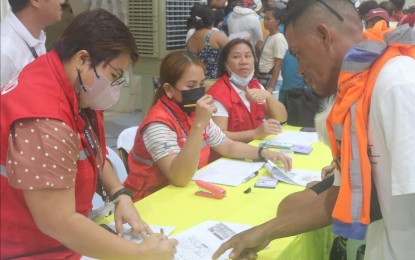 SAN JOSE DE BUENAVISTA, Antique – The Department of Social Welfare and Development (DSWD) has now extended PHP33,350,144 worth of various assistance to the oil spill-affected families in the municipality of Caluya, Antique.
DSWD Regional Office 6 (Western Visayas) Disaster Response Management Division chief Judith Tañate Barredo said in an interview Friday that immediately after the oil spill from the M/T Princess Empress was reported to have reached the island barangays of Caluya on March 4, their department provided over PHP 33 million worth of assistance as of March 21.
"There were then 7,195 families with 27,145 persons who were affected by the oil spill and provided with assistance," Barredo said.
She said the assistance provided was in the form of emergency cash transfer (ECT) in the amount of PHP25,979,694, cash-for-work (CFW) amounting to PHP1,093,500, and aid to individuals in a crisis situation (AICS) amounting to PHP1,707,000.
Aside from the financial assistance, there were also 8,300 family food packs worth PHP4,380,8000 distributed to the families in barangays Alegria, Semirara, Sibolo, and Tinogboc.
There were also non-food items composed of 50 pairs of boots, 20 units of modular tents, and 25 rolls of sakoline amounting to PHP189,150 that were released to the local government unit of Caluya for those involved in the coastal cleanup.
"We are just waiting for the availability of the Philippine Coast Guard vessel that would transport an additional 8,300 family food packs to Caluya," Barredo said.
She added that each family food pack, now ready at the DSWD Regional Warehouse in Oton, Iloilo province, is composed of goods such as rice, cereals, canned sardines and corned beef that can help mitigate hunger among the affected families.
Barredo said there are now Sustainable Livelihood Program personnel in Caluya doing an assessment for the livelihood projects to be undertaken to assist the families further. (PNA)