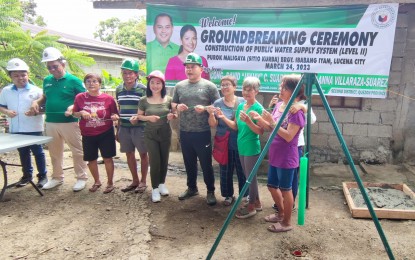 LUCENA CITY – Residents of three villages in this city will soon enjoy a steady potable water supply from solar-powered systems worth a total of PHP20 million to be put up by the office of Quezon Second District Representative David Suarez.
On Friday, Suarez, together with local officials, broke ground for the projects on separate occasions in the three villages.
Josefina Dalangin, city coordinator and acting team leader of the 150-household community in Sitio Kurba, Barangay Ibabang Iyam, said in an interview that the project will not only benefit the residents in their area in terms of drinking water but also in irrigating their rice fields.
The Level II Public Water Supply System, with a PHP5-million fund, will be capable of producing 13,000 liters of water every day, enough for 500 households, said Engr. John Ceedee Alvarez, Engineer II at the Department of Public Works and Highways-Quezon II District Engineering Office (DPWH-Quezon II DEO).
As Sitio Kurba only has 150 households, the rest of the water from the water supply system can be used to irrigate the 20-hectare rice fields of the community, he added.
"The project will be up for bid in April and probably will begin construction in June. The timeline is 180 days so by September, this sitio (sub-village) can enjoy clean and potable water," said Alvarez in a separate interview.
The parcel of land where the mechanism and water tank are located in Barangay Ibabang Iyam is donated by the family of Pedrito Sedaria.
Meanwhile, the water system project in Purok Anak Bagong Sinag Phase 2 in Barangay Cotta is also worth PHP5 million and will benefit 500 households.
The other one located in Purok Sta. Teresa, Barangay Dalahican will cost PHP10 million and is set to benefit 900 households.
In his speech at the events, Suarez emphasized to the residents the importance of clean and safe water, which, he said, prompted him to act immediately as soon as he received the request for the projects. (PNA)