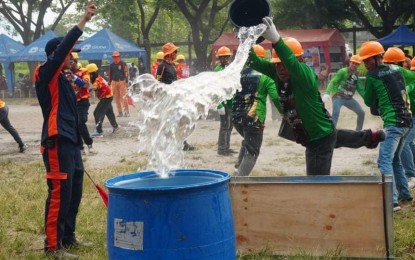 BACOLOD CITY – The Bureau of Fire Protection (BFP) here is pushing to form more community fire auxiliary groups (CFAGs) to serve as force multipliers in various barangays.
So far, only eight out of the 61 villages here have organized their fire brigades.
Chief Inspector Rodel Legaspi, city fire marshal, said on Friday they train volunteers to be part of the CFAGs to equip them in responding to a fire incident immediately.
"The city has a large population and our personnel is not enough to reach the ideal number. They become our force multipliers," Legaspi said on the sidelines of the 1st Mayor Albee Benitez Barangay Fire Olympics held at the Bacolod City Government Center football field.
Legaspi noted that having fire brigades is important, especially for far-flung barangays so that trained volunteers could respond to fire incidents before the arrival of the BFP personnel.
"Time element and distance to the nearest fire station are important considerations," the city fire marshal said.
Legaspi said the BFP is reaching out to more barangays to organize CFAG training.
"The point here is preparedness for the people of Bacolod City. If they have undergone a seminar and attended a symposium, we hope it will redound to the benefit of their families, friends, and loved ones," he added.
Five barangays competed in the 1st Mayor Albee Benitez Barangay Fire Olympics to test their capabilities through bucket relay, hose relay and throwing, and hose laying and replacement in line with the observance of National Fire Prevention Month this March.
Tangub topped the competition followed by Estefania, second; Pahanocoy, third; Estefania, fourth; and Singcang-Airport, fifth.
"This is an avenue for camaraderie and serves as a skills enhancement training for fire prevention volunteers in each barangay," said Councilor Psyche Marie Sy, chairperson of the committee on fire, social defense, and natural disaster.
In Bacolod, the BFP has a total of 14 fire trucks, of which five are based at the central fire station on San Juan St. while the rest are deployed to the seven sub-stations. (PNA)