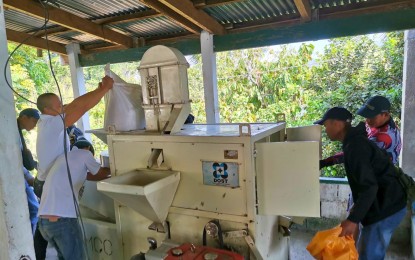 CITY OF SAN FERNANDO, Pampanga – The Department of Science and Technology in Central Luzon (DOST-3) has recently provided a compact impeller brown rice mill (CIBRM) to a farmers' group in Aurora province to boost the production and consumption of brown rice.
The initiative, which is under the agency's Expanded Community Empowerment through Science and Technology (eCEST) program, will benefit the members of the Calaocan Dipaculao Farmers Association in Dipaculao town.
DOST-Region 3 Director Julius Caesar Sicat said on Friday that through CIBRM, farmers would be able to turn their palay harvest into brown rice.
Sicat cited the need for brown rice to be available to more people, especially those with nutritional deficiencies.
"Through the CIBRM, the DOST aims to increase the consumption of brown rice by expanding its availability to more people in local communities where malnutrition, especially among children, might be present," he said in a statement.
Brown rice is produced by removing only the hull of the rice grain thus, leaving a higher content of nutritionally important fibers, minerals and natural oils, making it more nutritious than polished white rice.
Aside from providing easier access to brown rice, Sicat said the CIBRM will also enable the farmers to add value to their rice harvest.
According to the DOST, the compact brown rice mill has a milling recovery of around 70 percent which is higher compared to most common rice mills such as the stone disk or so-called "kiskisan" which has a lower milling recovery of 50-55 percent.
"The higher recovery and more efficient milling will substantially increase the production output and income of our local rice farmers," he added.
Likewise, he said that farmer-beneficiaries could save transportation costs as they no longer need to bring their produce to commercial rice mills.
With the deployment of the compact rice mill, Sicat hopes to encourage more people to patronize brown rice leading to higher consumption and in turn, improving nutritional status in the communities. (PNA)