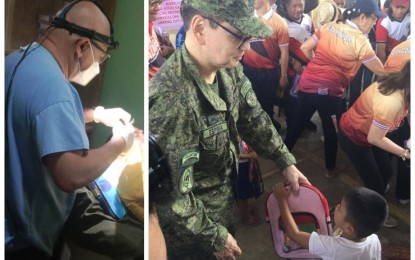 CEBU CITY – Army reservists have partnered with the local government of Toledo City in bringing medical and other services that benefitted more than 1,000 individuals, an official said Saturday.
Brig. Gen. Erik Miguel Espina, commander of the 1901st Ready Reserve Infantry Brigade, said the medical mission near the lake village of Gen. Climaco-Casoy in Toledo City was part of the activities related to the Philippine Army's 126th founding anniversary.
Minor surgeries were conducted for 11 individuals who needed surgical procedures for tumors and cysts, said Espina.
More than a hundred individuals availed of free medical consultations and free medicines.
A mobile dental clinic from the Department of Health's Center for Health Development has performed more than a hundred tooth extraction and cleaning, while 200 residents got their new reading eyeglasses.
Nearly 300 preschoolers were also treated in a feeding program shortly after their story-telling and parlor games while 67 children availed of the free circumcision from volunteer doctors and nurses from Toledo City.
Toledo City Mayor Marjorie Perales and Espina joined the members of the One Central Eagles Club in the distribution of more than 500 pairs of slippers and more than a hundred school bags to schoolchildren.
More than 80 male residents availed of free haircuts provided by students of the Don Bosco Technical Vocational Education and Training Center-Balamban headed by Salesian priest, Rev. Fr. Brian Butanas, as well as soldiers from the Joint Task Group-Cebu and Philippine Air Force and reservists from the 701st Ready Reserve Battalion. (PNA)