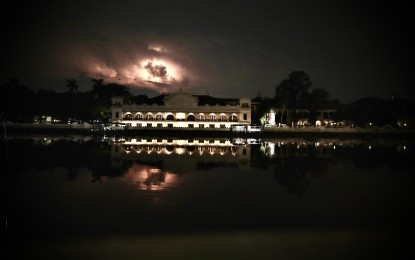 MANILA – President Ferdinand R. Marcos Jr. on Saturday called on Filipinos to join in the fight against climate change and participate in the 2023 Earth Hour on Saturday night.
Marcos, in a statement, said Malacañang would observe Earth Hour, a global movement that encourages communities and businesses to switch off non-essential electric lights for one hour from 8:30 p.m. to 9:30 p.m. as a show of commitment to the planet.
In a video message, the President noted that the Philippines is battered by an average of 20 typhoons yearly, "making it one of the most vulnerable countries to climate change."
"As the Earth's temperature gets warmer, with the world's carbon footprint reaching a new all-time high of 36.8 gigaton in 2022, the world braces for the irreversible impact of climate change," he said.
"It only takes 60 minutes to do good for our future, 60 minutes to take notice and commit to saving Mother Nature to be united and take action because together, nothing is impossible," the Chief Executive said as he noted that in doing so, people are giving "Mother Nature 60 minutes to breathe."
Earth Hour, organized by the World Wildlife Fund, allows individuals to support efforts in mitigating the devastating effects of climate change.
Among its objectives is to spark conversation on the climate crisis, including the staggering loss of biodiversity and nature.
Marcos said the observance of Earth Hour would also help the government enforce its action plans that will benefit the planet.
"So at this hour, let us stop, slow down and dedicate a moment to help the Earth breathe and heal anew. May this shared activity remind everyone that environmental preservation is an inter-generational responsibility and that it should become our individual and collective priority in the pursuit of progress and prosperity," he said.
"Let us become part of the solution and embark on advocacies, programs, and initiatives that will help us protect and preserve the Earth, our only home."
The Marcos administration has allotted a PHP464.5 billion budget this year to address climate change, equivalent to 8.8 percent of the total national budget.
The Department of Budget and Management (DBM) said this is significantly higher by 60.1 percent compared to the 2022 allocation of PHP289.7 billion.
"As we take part in this worthwhile endeavor, I encourage everyone to do our share, whether be it big or small, to help prevent ecological degradation and disasters by adopting climate change mitigation and resilience programs, switching to renewable energy, maintaining low greenhouse emissions, and many more," Budget Secretary Amenah Pangandaman said in a separate statement.
The DBM, she said, would strive to implement programs and initiatives that infuse environment-friendly parameters, such as the institutionalization of the "sustainable/green public procurement," which enables the procurement of goods and services that have reduced environmental impact. (PNA)