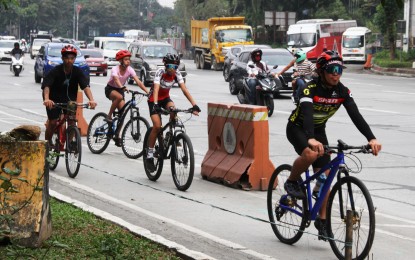 MANILA – The Climate Change Commission on Saturday sought the revival of the Bicycle Act, citing the harmful impact of mechanized modes of travel on both the environment and public health.
Climate Change Commissioner Albert Dela Cruz Sr. pointed out that motorized or mechanized vehicles emit carbon dioxide -- the most common human-caused greenhouse gas -- and that even the process of burning gasoline and diesel fuel creates harmful byproducts like nitrogen dioxide, carbon monoxide, hydrocarbons, benzene and formaldehyde.
In a bid to solve various related issues and problems faced by the country, including the growing concern over the threats of climate change and global warming, Dela Cruz suggested to revive the measure pushed by President Ferdinand R. Marcos when he was still a senator, according to a news release over the weekend.
In 2011, Marcos filed Senate Bill 2924 or the proposed Bicycle Commuters Incentives Act, which seeks to grant incentives to promote the use of bicycles and other safe and viable non-motorized transport vehicles as a mode of daily commuting and travel to and from workplaces, school, church, malls and other places.
Dela Cruz said reviving the proposed measure would address the problem of pollution and greenhouse gas emissions.
Under the proposal, riders and direct users would benefit from bicycle-related facilities and tax deduction incentives while indirect participants could be afforded tax deductions for expenses and corporate social responsibility programs.
Creating a bike-commuting culture could simultaneously address the ever-worsening myriad of related social issues in the country, such as climate change, air pollution, traffic and road congestion, and rising costs of gasoline and other commodities.
Dela Cruz said the regular bicycle use by the public would lessen the use of motorized transport which will soon translate to the decongestion of roads and lesser demand for parking facilities.
It would also significantly reduce carbon emissions and more people would no longer have to worry about cardiovascular health risks from transportation-related pollution.
"Bicycle users would also enjoy savings on transportation cost, in view of the lessened dependence on motorized transport system, which is admittedly more expensive due to the current fluctuations in the prices of gasoline and diesel fuel," he said.
"We also realize the fact that we should harness and take advantage of bicycle use in the Philippines because it remains to be popular these days, whether as a mode of exercise and recreation, or a mode of regular means of transportation, as evidenced by the thousands of recreational riders and group of bicycle-riding Filipino workers and laborers who can be seen sharing the road with motorized transport users," he added. (PNA)