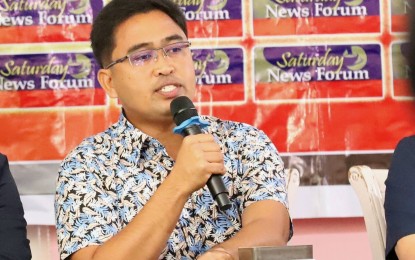 MANILA – A Filipino environmental scientist urged the government to invest in technology and response drills to minimize the impact of another environmental disaster similar to the oil spill incident in Mindoro Oriental.
Hernando Bacosa, an environmental science professor at Mindanao State University-Iligan Institute of Technology, said the government should draw lessons from the oil spill that has affected 12 towns and other provinces so far.
"We have to invest in technology, we have to invest sa (in) ROV (remotely operated vehicle) na galing ng (from) Japan and then we have to organize ourselves as a strong force po respond to oil spill," he said during the Saturday News Forum in Quezon City.
"[K]ung may (If we have) earthquakes drill tayo kahit siguro (just) once or twice a year, mayroon tayong oil spill drill na alam natin ang gagawin, kung maka-deploy ba tayo ng ganitong technology, at least alam natin (we should have an oil spill drill as well so we know what to do, if we can deploy technology, at least we know)," he added.
In the case of the sunken M/T Princess Empress, he said the country currently lacks "the technological capability to seal the leaking tanks."
Bacosa said this investment should be a priority given that the Philippines is an archipelagic nation, home to some of the world's most biodiverse marine ecosystems.
The professor, who also heads a Department of Science and Technology (DOST) support for the Mindoro spill, said the government should advance research that explores ways to contain slicks at the onset of an oil spill.
"[K]apag may ganyang nangyari dapat ready na iyong ating science team, ready na iyong ating technology to respond kasi nga it could happen anytime lalo na talagang 7,100 islands tayo (When this kind of event happens, our science team and technology have to be ready so we can respond because it could happen anytime, given that we have 7,100 islands)," he said.
Bacosa said the DOST is currently funding a study to develop local materials that can sequester oil efficiently.
The program, however, is still in a nascent stage and the materials are not yet ready to be deployed in Mindoro.
"The DOST is investing on this kind of technology at dapat po we have to support this one hanggang mag-commercialize na puwede nating magamit, puwede nating ipagbili sa ibang bansa (we need to support this and commercialize it to sustain it, maybe sell it to other countries) and then it will generate employments," he said.
Mindoro spill
On February 28, the M/T Princess Empress carrying about 900,000 liters of industrial fuel oil capsized off Naujan in Oriental Mindoro, spilling thick oil into the sea.
Earlier this week, Philippine Coast Guard Batangas Station commander Capt. Victorino Acosta said the spill has already reached the waters of Batangas province's Verde Island, which is located along the Verde Island Passage, the center of the center of marine shorefish diversity in the world.
Aside from containment and cleanup efforts, Bacosa said oil fingerprinting is necessary to determine the concentration of hydrocarbons in areas affected.
This could be used as evidence that the spill has reached and contaminated areas as far as Palawan, he added.
"At the end of the day, you have to prove to the court that it is the same oil from Mindoro oil spill.," he said.
He said there are four main compounds in crude oil, also known as SARA -- saturated hydrocarbon, aromatic hydrocarbon, resins and asphaltenes.
Of the four, the most toxic is aromatic hydrocarbon as it is also "potentially mutagenic" and carcinogenic or can cause cancer.
"At ito pong bunker oil ay mataas ang (And this bunker has a high amount of) aromatic hydrocarbon," Bacosa said. (PNA)