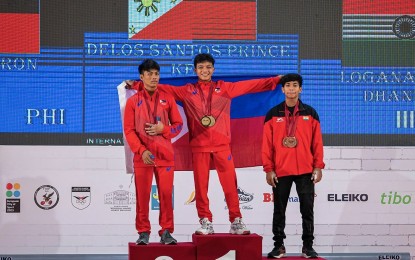 MANILA – The Philippines kicked off its campaign on the right track after winning three gold medals on Saturday at the start of the International Weightlifting Federation Youth World Championships at Ramazan Njala Sports Complex in Durres, a port city in western Albania.
Delos Santos, a resident of Angono, Rizal, sizzled with three medals, including two golds, in the men's 49kg category.
He ranked first in snatch (92kg) and despite settling for second in clean and jerk (113kg), submitted the highest total of 205kg for a two-gold and one-silver finish.
Eron Borres of Cebu City claimed the third gold for the Philippines after topping the clean and jerk (114kg). He placed third in snatch (87kg) and second overall (201kg) in his first international competition.
India's Darush Loganathan got the silver medal in snatch (88kg) and the bronze medals in clean and jerk (112kg) and total (200kg).
"This is the future of PH weightlifting. The boys have finally arrived. It's always been the girls and women. We're fighting now to be the world's best even in the boys and men's categories. We're really lucky to have good coaches and sponsors such as the Philippine Sports Commission. And most of all, to God be the glory. Mabuhay ang Pilipinas (Long live the Philippines)!" Monico Puentevella, Samahang Weightlifting ng Pilipinas president, said in an interview on Sunday.
Angeline Colonia of Zamboanga City was scheduled to compete in the women's 45kg category Sunday (PH time).
The 16-year-old Colonia delivered three medals in the youth women's 40kg category during the 2022 Asian Youth and Junior Championships in Tashkent, Uzbekistan.
Albert Ian Delos Santos, who saw action in the 2021 Youth World Championships in Saudi Arabia, will compete in the men's 61kg category on March 27 while fellow Zamboangueño Rosalinda Faustino will vie in the women's 55kg category on March 28, both at 2 a.m., Philippine time.
In the same 2022 Uzbekistan meet, Faustino pocketed three gold medals.
The five athletes are accompanied by coaches Gregorio Colonia, who competed at the 1988 Seoul Olympics, and Diwa Delos Santos, a Southeast Asian Games bronze medalist. (PNA)