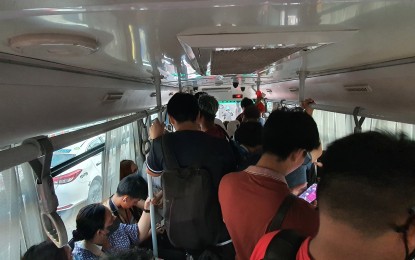 CAGAYAN DE ORO CITY – The reduction of the minimum jeepney fare to PHP9 in Northern Mindanao next month will only be for public utility vehicles (PUVs) with Global Positioning System (GPS), the region's Land Transportation Franchising and Regulatory Board (LTFRB-10) clarified on Monday.

LTFRB-10 Director Amenoden Guro said implementation of the nationwide PHP9 minimum fare is a continuation of the Department of Transportation's (DOTr) service contracting program (SCP), now in its fourth stage.

Under the SCP, the DOTr subsidized the income of Public Utility Jeepney (PUJ) operators, so they can provide free transport to commuters at the height of the coronavirus disease 2019 (Covid-19) pandemic.

This year, the "libreng sakay" or free ride scheme implemented by the government will no longer be available but instead will be replaced by the reduced PHP9 fare from the current PHP12 minimum fare for PUJs here.

Guro said the national government has continued the SCP implementation since there is a leftover of PHP600 million from the previous years.

"There is an excess of PHP600 million from phase 3 [of the SCP], so to liquidate that amount, the government has decided to consume it through the implementation of phase 4," he said.
Of the said PHPP600 million budget for the SCP phase 4 nationwide, PHP60 million was allocated for this city and PHP17 million for Iligan City.

Only PUJ units that are installed with GPS features are eligible for the SCP for real-time monitoring of the volume of passengers, he added.

The clarification came after concerns from both commuters and drivers reached his office regarding the reduced fare, adding that there were some confusion and speculation on the implementation of the service contracting program's fourth cycle.

"Most of the PUJs that have GPS are the modernized units, so they can avail of the SCP Phase 4. However, if a traditional jeepney has an installed GPS then it can also be eligible for the SCP," Guro said.

Under the Omnibus Franchising Guidelines (OFG), transport cooperatives or corporations are only allowed to operate if their PUJ units are equipped with GPS, dashboard cameras, and an automatic fare collection system, among others.

Luzminda Escobidal, manager of the PN Roa Canitoan Transport Cooperative (Ponstransco) operating here, said the PHP9 fare is advantageous to passengers.

She assured that Ponstransco, being one of the first groups here to comply with the PUV modernization program, is ready for the SCP Phase 4 implementation as all their modernized PUJ units are OFG-compliant. (PNA)