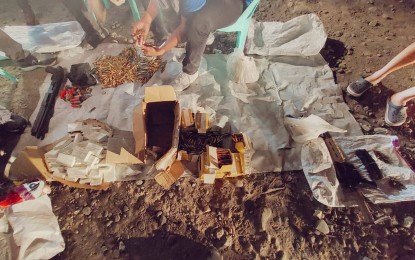 DUMAGUETE CITY – Operatives of the Criminal Investigation and Detection Group (CIDG) have seized more firearms and ammunition in another search on the premises of a sugar mill in Sta. Catalina, Negros Oriental Sunday night.
In a media release issued Monday by the Joint Task Force Negros (JTFN) said a search that took place around 7:20 p.m. and onwards at the HDJ Bayawan Agri-Vet Corp. compound in Barangay Caranoche, Sta. Catalina, yielded one short firearm with 24 rounds of live ammunition and three magazines; one disassembled pistol; one shotgun with 29 rounds of live ammunition; 852 rounds of live ammunition for caliber 7.62 mm; and 1,169 rounds of live ammunition for caliber 5.56 mm.
The items were discovered at the back portion of the compound near a molasses tank following an intensive search of the sugar mill's premises.
The CIDG, assisted by the Philippine Army and the local police who provided security, has been conducting a continuous search of the sugar mill, reportedly owned by former Gov. Pryde Henry Teves, since Friday (March 24).
During the first two days of the search, the CIDG recovered six long firearms and 10 short firearms of different calibers, three pieces of IEDs and components, one RPG ammunition, 4,000 assorted live rounds of ammunition of various calibers and money.
Col. Thomas Valmonte, CIDG's chief legal officer, said the search is carried out by a warrant issued by the executive judge of Mandaue City.
The search continues on its fourth day on Monday, with Valmonte saying they have to scour the entire sugar mill compound which is so vast that it would take a few more days before they can terminate their operation.
Valmonte reiterated that the search is not related to the March 4 massacre in Pamplona, Negros Oriental where Gov. Roel Degamo and eight others were killed while 17 more were injured.
It is, however, in line with the agency's Oplan Paglalansag program to go after illegal firearms.
Teves is the brother of suspended Negros Oriental Rep. Arnolfo "Arnie" Teves Jr. (third district) who was tagged by the arrested mass shooting suspects as the alleged mastermind of the gruesome murders. (PNA)