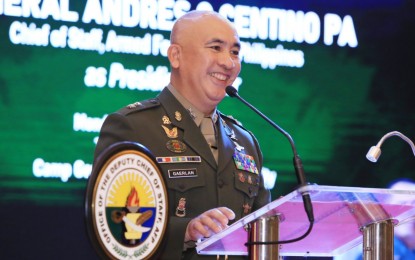 MANILA – Philippine Marine Corps commandant (PMC), Maj. Gen. Charlton Sean Gaerlan, was appointed as the new Armed Forces of the Philippines (AFP) deputy chief of staff.
Gaerlan assumed his post in a ceremony presided by AFP chief, Gen. Andres Centino, at Camp Aguinaldo, Quezon City on Monday.
"He replaced Lt. Gen. William Gonzales, The Inspector General AFP, who was the designated acting TDCSAFP (The Deputy Chief of Staff AFP) following the retirement of Vice Admiral Rommel Anthony Reyes on March 15," said AFP public affairs office chief, Col. Jorry Baclor, in a statement.
Gaerlan is a member of the Philippine Military Academy Class of 1989 and has 34 years of experience as a military officer and has occupied various positions in the areas of operations, intelligence, and administration.
"I am humbled and honored to stand before you as I assume as the TDCSAFP, a leadership post charged with a great amount of responsibility and a higher level of accountability," said the new AFP deputy chief of staff in his assumption speech.
"I urge everyone to continue to support the AFP modernization and transformation programs so that we can achieve our mission to become a world-class armed force and continue to value the enhancement of professionalism across the organization," Gaerlan added.
Prior to his appointment as AFP deputy chief of staff, Gaerlan served as the 35th PMC commandant.
Gaerlan also served as the commander of the AFP Education, Training, and Doctrine Command and assistant deputy chief of staff for intelligence.
"With the broad knowledge and expertise of Maj Gen. Gaerlan in the field of intelligence, operations, and personnel management, I am fully confident that he shall further fortify the traditions of the AFP leadership. Without doubt, his previous designations prepared him to take on greater tasks as the AFP's third-in-command," Centino added.
Gaerlan was also deputy brigade commander of the 2nd Marine Brigade, deputy commander for marine operations of the Naval Forces Western Mindanao, inspector general of the PMC, and commander of the 3rd Marine Brigade in Western Command, Palawan. (PNA)