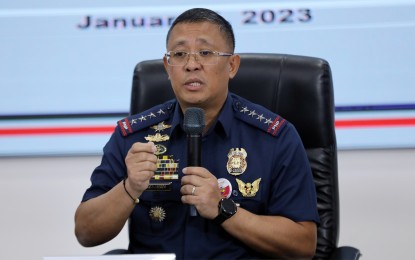 MANILA – The Philippine National Police (PNP) is now beefing up its personnel and assets in the Bicol Region for a police-military offensive against the remaining New People's Army (NPA) insurgents who have staged a series of attacks in the province of Masbate last week.
"Upon instructions of President Ferdinand Romualdez Marcos Jr. the PNP mustered police forces in the Bicol region for a police-military offensive against communist terrorists operating in the region especially in the island province of Masbate where NPA terrorists detonated anti-personnel landmines near the immediate vicinity of public schools in Placer and Dimasalang towns," said PNP chief, Gen. Rodolfo Azurin Jr., in a statement Monday.
Per assessment, Azurin said the series of attacks are meant to project the NPA's strength as it celebrates its 54th founding anniversary on Wednesday.
"We will strengthen our deployment of personnel in these areas as the (Communist Party of the Philippines) CPP-NPA's continued use of anti-personnel landmines long outlawed by international conventions on warfare constitutes a flagrant disregard by the local communist movement of international humanitarian law," Azurin said.
The PNP chief said around 859 police personnel are now deployed to safeguard schools in the Masbate province, 659 of which are organic personnel from the stations and an additional 200 augmented personnel from the Regional Mobile Force Battalion 5 and Provincial Mobile Force Company of Masbate.
"Across the country, PNP units were alerted against similar hostilities, especially on soft targets and least secured government installations and public infrastructure," Azurin said.
Oil spill response
Meanwhile, the PNP also said units under the Police Regional Office 4B (Mimaropa) are now bracing for the ongoing multi-sectoral containment and clean-up operations along the coastline of Oriental Mindoro province and other areas affected by the oil spill caused by the sinking of the M/T Princess Empress off the waters of Naujan town on Feb. 28.
"Local police units in Oriental Mindoro, meanwhile, were beefed up for humanitarian assistance through the activation of PNP Sub-Task Group (STG) Oil Spill in regions Mimaropa and VI which function is primarily to monitor, and provide strategic guidance to contain the source of oil spill, recover split oil and facilitate emergency response with TADCO as the STG Oil Spill Commander," Azurin said.
The STG tasked the Area Police Command Southern Luzon and Visayas to implement this directive and the Directorate for Police Community Relations to conduct an awareness campaign pertaining to the oil spill to thousands of residents now directly affected.
Azurin said these local police units are under strict instructions to ensure order and security in government-initiated relief programs in hardest-hit communities.
The PNP Maritime Group is also alerted to make available its floating assets to assist Philippine Coast Guard and local governments in clean-up and containment operations. (PNA)