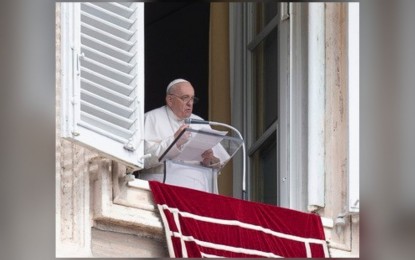 ROME – The Pope on Sunday called on the faithful not to lose hope even when they fall or feel discouraged.
Commenting on the day's Gospel on the resurrection of Lazarus, Francis invited the crowd of 35,000 people gathered in St Peter's Square for the Angelus prayer not to "let ourselves be crushed by negative feelings" or to be weighed down by "the pain, the mistakes, and even the failures" and to not "hide them inside".
"Take off the bandages that bind you; please do not give in to the pessimism that depresses, do not give in to the fear that isolates, do not give in to discouragement because of the memory of bad experiences, do not give in to the fear that paralyses," said the Pope.
"Jesus says to us, 'Go, go on! I am with you'," he added.
During the Angelus the Pope prayed for the people of Ukraine, the populations affected by the February 6 earthquakes in Turkey and Syria, the people hit by Saturday's tornado in Mississippi and peace and reconciliation in Peru.
He also extended a special greeting to a delegation representing the Italian Air Force, which celebrates the centenary of its foundation on March 28.
"I extend my best wishes for this anniversary and encourage you to always work for the construction of justice and peace," Pope Francis said. (ANSA)