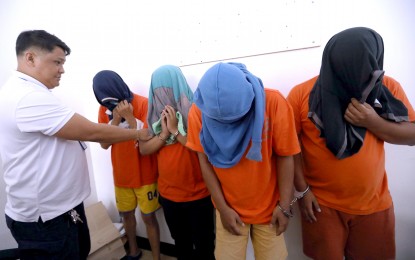 MANILA – The National Bureau of Investigation - Cybercrime Division (NBI – CCD) announced on Monday the arrest of four suspects in separate operations in Quezon City and Manila for selling bogus accounts of the digital wallet GCash.
The suspects who will be charged for violation of Republic Act (RA) 8484, otherwise known as the Access Devices Regulation Act, were identified as Jay Cortez , Kevin Mark Maboloc, Jeffrey Miguel and Jeffrey Ilagan.
The NBI said the four transacted with their victims through Facebook accounts and private messages on the Messenger application.
They sold GCash accounts from PHP550 to PHP900, enticing unsuspecting victims that each account is loaded with PHP100,000.
Cortez and Maboloc were arrested in Matandang Balara, Quezon City; Miguel in Tondo, Manila; and Ilagan in North Avenue, Quezon City.
Under RA 8484, any person committing any of the acts constituting access device fraud faces a fine of at least PHP10,000 or twice the value obtained by the offense and imprisonment between six and 20 years.
GCash is a digital application that sends and receives money and can be used as a payment tool, with a mobile number as account number.
Withdrawal may be made even in retail stores for a minimal fee while a physical card that works like an automated teller machine card may also be obtained. (PNA)