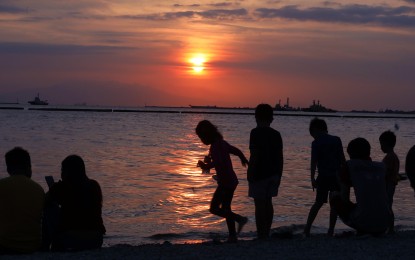 MANILA – The Climate Change Commission PH (CCC) joined this year's #BiggestHourForEarth campaign to further raise awareness on the urgent and collective global climate action.
The CCC took part in the main switch-off event at Quezon City Memorial Circle on March 25 from 8:30 p.m. to 9:30 p.m., spearheaded by the Quezon City government and WWF-Philippines.
CCC Vice Chairperson and Executive Director Robert Borje shared that, ironically, "an hour of absence of light sheds a light on the collective need to address the climate crisis."
"By switching our lights off, we want to be a beacon for all and a signal to all. We want to tell the world that we need to act for our country and our world in the face of climate change," Borje said.
In addition to raising awareness on climate change, Earth Hour 2023 also aimed to promote energy conservation. In the Sixth Assessment Report of the UN Intergovernmental Panel on Climate Change, it is estimated that around 34 percent of global greenhouse gas emissions are caused by the energy sector.
In the Philippines, the energy sector accounts for 55 percent of the domestic emissions, with household and commercial energy consumption ranking as the second and fourth highest demand based on the latest National Greenhouse Gas Inventory, respectively.
To respond to the growing emissions, the National Climate Change Action Plan includes 'sustainable energy' as among its thematic priorities with the aim of promoting and implementing energy efficiency and conservation measures.
Borje urged the public to take climate action beyond an hour and make it a part of their daily life.
"Panahon lang ang maibibigay natin sa mundo (We can only give time to Earth), but the irony of it all, we do not have the luxury of time. Ang climate change ay nararamdaman natin (We started to feel climate change) and we need to act together," said.
Held annually, Earth Hour encourages Filipinos and citizens around the world to switch off non-essential lights for an hour to conserve energy and protect the planet.
"It only takes 60 minutes to do good for our future, 60 minutes to take notice and commit to saving Mother Nature, to be united and take action because together nothing is impossible," said President Ferdinand R. Marcos Jr. in a video message supporting the event.
Earth Hour first took place as a symbolic lights-out event in Sydney, Australia in 2007.
For its 16th year, the Earth Hour put a spotlight on the #BiggestHourForEarth to call on the need to address climate change.
For more information on the CCC's climate mainstreaming activities, visit www.climate.gov.ph and www.facebook.com/CCCPhl.
In Puerto Princesa City, Palawan, residents and local officials gathered at Balayong People's Park.
Carlo Gomez, head of the City Environment and Natural Resources Office (ENRO), said the more important thing is being responsible environment protectors beyond the one-hour activity.
"Of course, Puerto Princesa City is not behind in terms of manifesting commitment to Mother Earth with the implementation of several ordinances regarding environmental protection -- single use plastic, septage management plan, waste-to-energy program. These are but just examples of our responsibility beyond the hour," Gomez said in an interview.
The City ENRO also conducts iTree for Urban Forest, a regular inventory of trees around the city proper; Mudball Run, part of cleanup activity at the Puerto Princesa Bay; Marine Turtle Conservation; Love Affair with Nature, a mangrove planting activity; and Pista Y ang Kagueban (Feast of the Forest), a tree planting activity in the mountains of the city. (With a report from Genesis Medina/PNA)