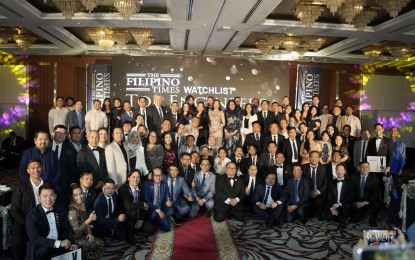 DUBAI, United Arab Emirates – The winners of the New Perspective Media (NPM) Group's inaugural "The Filipino Times Watchlist: Top Engineers and Architects in the Middle East" have been revealed in an international summit and awards event held in Dubai.
A total of 91 Filipino professionals bagged accolades from the Awards that takes immense pride in acknowledging the indelible impact that Filipino engineers and architects have made in the Middle East's sustainable progress and uplifting the image of the Philippines in the Arab World.
The awardees include 16 architects, eight chemical engineers, 30 civil engineers, 10 electrical engineers, eight electronics & communications engineers, one geothermal engineer and 18 mechanical engineers.
The Filipino achievers underwent a rigorous selection process, with 297 nominations received and 108 shortlisted based on their demonstrated skill and leadership in their respective fields.
"Having overseeing the Philippines' bilateral relations with the countries in the Middle East and African region for several years prior to assuming my post as Philippine Ambassador to the UAE, I'm very much aware of how Filipinos have helped build this region. From the time Sheikh Zayed, the founding father, established the UAE 52 years ago, Filipino builders, engineers, and architects, helped plan, design, and build the cities of this nation quite literally. The first generation of Filipino professionals, your predecessors, built the foundations of the UAE, and this paved the way for Filipinos to be rightfully recognized, respected, and appreciated by this country, its people, and leaders," said Philippine Ambassador to the UAE Alfonso Ver.
Renato Dueñas Jr., Philippine Consul General in Dubai and the Northern Emirates, said Filipino engineers and architects are some of the most sought-after professionals in the Middle East and "for good reason: they are more than capable, hardworking, reliable and highly motivated."
"Our engineers and architects have been and continue to be an integral part of the development of this region and they are our country's pride," he added.
Karen Remo, Chief Executive Officer & Founder of NPM Group, said Filipino engineers and architects are at the forefront of sustainable development in the Middle East.
"With their exceptional skills and dedication, they have become trusted partners in shaping the region's future. With the Arab World's commitment to sustainability and progress, it provides the perfect stage for these professionals to showcase their exceptional abilities and drive for sustainability. As they continue to push the boundaries of innovation and excellence, Arab countries can look forward to a brighter and more sustainable future, fueled by the passion and brilliance of these outstanding Filipino engineers and architects," Remo said.
For his part, NMP Group chief operations officer Vince Ang said: "The inaugural edition of The Filipino Times Watch List Summit & Awards served as a testament to the passion and tireless dedication of the publication in promoting the extraordinary achievements of Filipino professionals."
The event, centered around the theme "Excellence and Sustainability in Building and Designing the Future," showcased NPM Group's commitment to Corporate Social Responsibility by aligning with the UAE's Year of Sustainability campaign.
It brought together an array of distinguished UAE government officials and leading industry experts, comprising of eminent organizations such as the Dubai Future Foundation, Dubai Municipality, Philippine Embassy, Majid Al Futtaim Properties, Obermeyer, Tebodin and Prime Group.
Judges who helped determine the awardees included Dr Mary Jane Alvero, Chief Executive Officer at PRIME Group; Engr Victorino Abejero, Managing Director at GulfTIC Certification; Engr Emelyn Martinez, Managing Director at Qualis; Dr Jeffrey Uy, Vice President, Project Management at Aldar Properties; Arch Christine Espinosa-Erlanda, Associate Partner at Godwin Austen Johnson; and Arch Suzette Peachie Bayonito, Senior Project Architect at National Engineering Bureau. They also received honorary awards during the ceremony.
Experts discuss industry trends
The summit and awards featured a lineup of renowned industry leaders and experts who delved deep into the future of architecture, engineering, and construction (AEC) industries. The thought-provoking discussion encompassed a range of critical topics, such as the GCC's Giga and Mega Projects; the role of Industry 4.0 and AI in unlocking new opportunities; and the Middle East's transition towards net-zero.
Among the esteemed speakers were Engr Mohamad Al-Dah, Vice President of Structural Engineers organisation; Dr Rajkumar Muthusamy, Senior Robotics Scientist at Dubai Future Foundation; and Manosh De, Urban Planning Expert at Dubai Municipality.
The event also welcomed Arch Kirby Zalameda, Design Director of Architecture at DLR Group Middle East; Engr Orandantes Delizo, Project Manager at Tebodin Middle East; Arch Woderick Pareja, AE Senior Architect at Obermeyer Middle East GmbH; Engr Leonester Diestro, Asset Lead Retail Delivery Manager at Majid Al Futtaim Properties; Engr Maynard Theodor Saga, Project Manager at Traxon Technologies; and Arch James Roy Jimenez, Senior Architect and BIM Manager at Zublin Constructions.
The summit and awards are supported by Platinum Sponsor Ayala Land International Sales, Inc., Gold Sponsor RLC Residences, and Junior Sponsors Geoscience Testing Laboratory (GTL) and African + Eastern.
Here is the full list of awardees by professional designation:
--Architects Christine Espinosa-Erlanda, Suzette Peachie Bayonito, Allan J. Hock, Anthony T. Austria, Anthony R. Raquepo, Arnold A. Datu, Catherine L. Alba, Christopher R. Bonoan, Eldrid B. Refil, Florence Joy P. Cadorna, James Roy T. Jimenez, John Carlo J. Carlos, Arch. Kirby A. Zalameda, Leonila V. Robledo, Robbie Robert B. Gitgano and Woderick M. Pareja
--Chemical Engineers Dr. Mary Jane Alvero Al Mahdi, Aldrin Castro, Arnel E. Dayao, Florencio G. Lopez Jr., Hilbert M. Libres, Marco Q. Quesea, Rodolfo B. Yamson Jr. and Ronald M. De Castro.
--Civil Engineers Emelyn Martinez, Abechael Y. Capili, Alvin E. Alejandro, Ariel A. Bantugan, Bernie N. Favorito, Enrico John Niño G. Chavez, Jay Ar P. Legaste, Jestoni E. Cuizon, Joel G. Abaincia, Joeper F. Famorcan, Joey B. Bañadera, John Joseph R. Guinoo, Jojo R. Utram, Leonester V. Diestro, Lilian C. Geron, Louie James T. Bendanillo, Luisito S. Carlos, Manilyn D. Mallari, Manuel F. Papasin, Noemi S. Culala, Onofre P. Valencia, Orandantes M. Delizo, Preniss Ann J. Quibrantos, Rheesa Mae G. Alfaro, Richard Z. Roxas, Ryan B. Clarina, Sheena O. Mecaydor, Sheryl G. Dela Peña, Vanessa M. Malaluan and Yvonne O. Cabang.
--Electrical Engineers Victorino Abejero, Dene S. Horneja, Enrie Andy E. Vergosa, Frederick B. Espinosa, Jacob B. Sambahon, Mario M. Solang, Maximo H. Adarlo Jr., Ramil A. Biador, Robert U. Mabulay and Rolando M. Nicolas.
--Electronics & Communications Engineers Jan Michael G. De Villeres, Jethroefel E. Ramboyong, Leonardo G. Mendoza, Louie Mel C. Maliksi, Perry L. Kwan, Rafael C. Lontoc, Reenan M. Gotis and Reuben James B. Sevillano,
--Geothermal Engineer Paul Anderson N. Vera
--Mechanical Engineers Jeffrey Uy, Albert J. Damo, Arnel E. Caburnay, Daygrace C. Salunga, Dennis P. De Mesa, Dennis L. Magnaye, Deugene M. Acojido, Edmar F. Cabra, Francis Anthony M. Uy, Gideon C. Gucilatar, Jeffrey P. Arreza, Joanah P. Mozo, Jomar T. Battung, Kristian G. Basario, Manolito M. Landicho Jr., Noriel M. Ong, Renante G. Abellanosa and Ryan Ben R. Sabilala. (PNA)