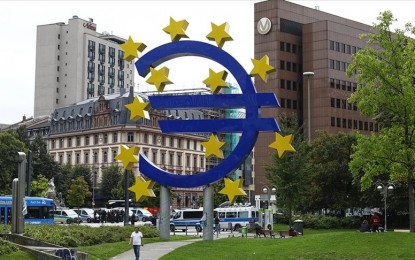 ANKARA – S&P Global Ratings on Monday revised downwards its eurozone growth forecast for 2024 while not expecting the single currency zone to return to its potential before 2025.
The euro area's gross domestic product (GDP) is now foreseen to reach 1 percent in 2024, down from the previous forecast of 1.4 percent, according to the latest Economic Outlook Eurozone report.
"We see an elevated risk of a mild recession down the road," said Sylvain Broyer, chief economist for Europe, the Middle East and Africa (EMEA) at S&P Global Ratings.
The inflation rate is not expected to return to the target of 2 percent before the first quarter of 2025 and core inflation before the third quarter of 2025, the report said.
According to the latest data from Eurostat, annual inflation in the eurozone decreased slightly to 8.5 percent in February from January's 8.6 percent.
The report projected that the European Central Bank (ECB) will hike rates for longer than previously expected to tame the persistent inflation.
The ECB increased its policy rate by 50 basis points at its March meeting, pushing borrowing costs to their highest level since 2008.
The deposit facility rate is forecast to reach 3.50 percent by the summer, "unless the market turmoil undermines the current outlook for growth and inflation," the report added.
"The outlook is complicated, but not dire," Broyer said.
Consumer spending will be boosted with the backing of government measures, accelerating wages and disinflation, while external demand will benefit from China's fully reopening, it added. (Anadolu)