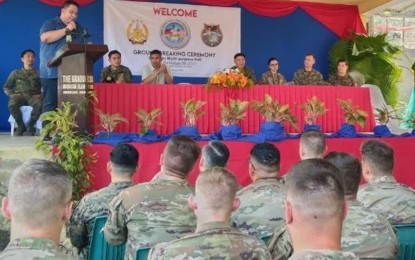 CEBU CITY – US Air Force and Philippine Army engineers are working together to construct a multi-purpose hall in a village in Antique to mark the start of the Balikatan Exercises in the Visayas.
"The construction of the multi-purpose hall in Sibalom, Antique is a welcome endeavor as it contributes to the efforts of the government to address the needs of the people, particularly those from the outskirt communities," Lt. General Benedict Arevalo, Viscom chief, said in a statement on Tuesday.
The Philippine Army's 552nd Engineer Construction Battalion and the US Air Force's 18th Civil Engineer Group are joining hands for the Balikatan construction project in Barangay Inabasan in the said town.
Maj. Israel Galorio, Viscom's public information officer, said the 80-square meter fully-furnished multi-purpose hall will stand in the vicinity of Inabasan Elementary School.
The project broke ground on Monday in the presence of Sibalom Mayor Gian Carlo Occeña, and other government and military officials including Lt. Col. Michael Asuncion, commander of the 552nd Engineer Construction Battalion and 1Lt. Natalie Smalley of the US Air Force's 18th Civil Engineer Group.
"Both Armed Forces do not only learn to work for the betterment of each other's capability but also learn to work with the community whom we have sworn to serve and protect" Arevalo added, underscoring the benefits of the Balikatan Exercises for the troops in the Visayas.
The Balikatan Exercises to be carried out in April will simulate airfield seizure, combined command and control, and sensing expeditionary advance base which will be held in Antique and the tactical airlift/airdrop of personnel and logistics operations will be done in Mactan-Benito Ebuen Air Base on Mactan Island in Cebu. (PNA)