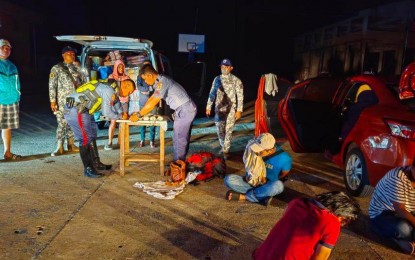 PALO, Leyte – An anti-carnapping operation in Allen, Northern Samar early Tuesday yielded PHP7 million worth of shabu near the Allen port in Northern Samar, the Philippine National Police (PNP) reported.
Police operatives found 10 packs of shabu when they inspected an orange Toyota Vios car reported as stolen in Tarlac around 3 a.m., said PNP Eastern Visayas Regional Director Brig. Gen. Rommel Francisco Marbil.
Policemen flagged down the vehicle at a checkpoint set up in Jubasan village in Allen town near the port that links Northern Samar to Sorsogon.
The PNP regional office revealed that packs of illegal drugs were inside the brown leather sling bag with an estimated market value of PHP7 million.
Policemen intercepted the vehicle for not wearing a seatbelt. Upon verification, it turned out that the documents presented by the driver were spurious.
The operatives also noticed the driver and his companions acting suspiciously.
The situation prompted policemen to request a drug sniffer dog from Philippine Coast Guard while other personnel conducted body searches for any possible dangerous weapons.
During inspection said dog suddenly sat down, indicating the discovery of a target odor of illegal drugs that led to the finding of 10 packs of shabu.
Operatives arrested the driver, Jabbar Angni Azis, 29, resident of Munai, Lanao Del Norte, and his companions Aminollah Moti Mohammad, 43, resident of Pantao Ragat, Lanao Del Norte; and Amenodeh Agul Mamao, 32, resident of Santiago City, Isabela.
The suspect are now detained at the Allen municipal police station in Northern Samar.
Records from Capaz, Tarlac municipal police station disclosed that a certain Rolando Cura reported that his owned Toyota Vios was rented by a certain Nashiba Mangorangka Dimacaling of Balanga City, Bataan for use within Manila area.
However, the said vehicle was not returned on the scheduled date on March 27, 2023.
Upon review of the Global Positioning System (GPS) tracking device installed on the vehicle, it was tracked at the port in Allen, Northern Samar.
In a press briefing at the police regional office here, PNP chief Gen. Rodolfo Azurin Jr. commended the policemen in the region for the seizure of illegal drugs in Allen town.
"This is a very nice intelligence operations with combined efforts of PNP units. This is one of the best practices in the country to combat crime," Azurin said.
The operation is a joint effort of Northern Samar Task Force Maharlika, Allen municipal police station, PNP-Highway Patrol Group and the Philippine Coast Guard in Northern Samar.
The creation of the task force deployed along the region's Maharlika Highway is an initiative of the PNP Eastern Visayas regional office to secure the major highway after receiving reports it is being used in the transshipment of various contrabands such as illegal drugs, loose firearms, and products from illegal logging. (PNA)