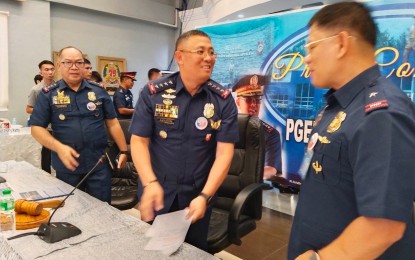 PALO, Leyte – A five-member advisory body looking into the possible involvement in illegal drugs of senior officers of the Philippine National Police (PNP) has evaluated about 90 percent of the more than 900 who submitted their courtesy resignations.
PNP Chief Gen. Rodolfo Azurin Jr. said in a short press briefing here Tuesday that after the processing of the group, the names of senior officers found to have derogatory information were submitted to the National Police Commission for further review.
The senior officers' courtesy resignations will be recommended for rejection if the screening process finds no record or information that they are involved in illegal drugs.
"We will submit to the Office of the President some of our recommendations for the names processed. It's up to the President to accept or deny their courtesy resignations," Azurin said.
The official has not provided numbers of senior officers allegedly involved in illegal drugs.
The five-man committee is composed of Azurin, retired police general and Baguio City Mayor Benjamin Magalong, Office of the Presidential Adviser on Military Affairs Undersecretary Isagani Nerez, former Defense Secretary Gilbert Teodoro and retired Court of Appeals Justice Melchor Sadang.
On Jan. 4, Interior and Local Government Secretary Benjamin Abalos Jr. called for the courtesy resignation of police colonels and generals as part of the government's efforts to cleanse the ranks.
Azurin was in the region Tuesday for a command visit where he met with key regional police officials and unveil the statue of Ruperto Kangleon, the Leyte resistance movement leader who facilitated the return of the American Gen. Douglas MacArthur to the country in 1944.
The police regional office headquarters is named after Kangleon, a native of Macrohon, Southern Leyte who also served as Leyte governor (1945 to 1953), Defense secretary (1946 to 1950), and senator (1953 to 1958). (PNA)