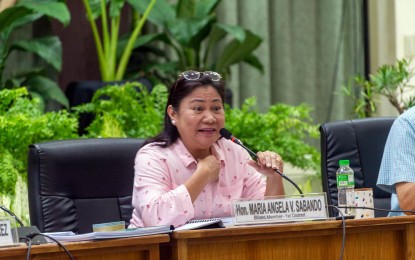 PUERTO PRINCESA CITY, Palawan – A provincial legislator on Tuesday urged the Provincial Health Office (PHO) to take the necessary actions on the reported cases of hand, foot and mouth disease (HFMD) spreading in several villages of Roxas town.
Provincial Board Member Ma. Angela Sabando, during the Sangguniang Panlalawigan regular session, said she received a report from a nurse of the local government unit of Roxas stating that the town has recorded almost 100 cases.
She said the report showed Barangay Magara with the highest number of cases with 54; followed by Barangay Nicanor Zabala -- 22; San Jose and Barangay IV -- five each; Barangay New Barbacan -- four; Barbacan II -- two; and Barangays I, III, Caramay and Tinitian -- one case each.
Sabando also said the breakdown of cases per age group is as follows: 0-11 months old -- six cases; 1-4 years old -- 31 cases; 5-9 years old -- 41 cases; and 10-14 years old -- 18 cases.
"Overall, 57 cases are male while 39 are female for a total of 96 cases of HFMD," Sabando said in her privilege speech.
With the sudden rise of HFMD cases, Sabando said she is calling on the Department of Health (DOH) through the PHO and the Department of Education to conduct a massive information and education (IEC) campaign regarding the illness in schools not only in Roxas but also in other municipalities of the province.
"What I learned is that this disease is very contagious which started with only one kid from Nicanor Zabala and now has affected almost 100. There is no known cure yet and this is self-healing but what the kids will go through might lead to complications. That's why we need to act immediately before it spreads out to other places," she added.
Dr. Justyne Barbosa, Medical Specialist II at the PHO, said while HFMD is not a serious disease, it could lead to dehydration if the patient is not given immediate proper treatment.
"But here in the province of Palawan, so far we do not have a recorded mortality yet because cases are immediately taken care of," she added. (Genesis Medina/PNA)