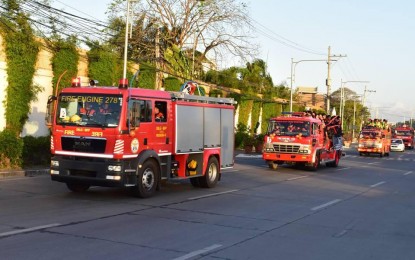 MANILA – In support of the continuous development and improvement of the country's fire service, the Marcos administration has allocated a total budget of PHP1.737 billion for the modernization of the Bureau of Fire Protection (BFP).
The fund shall be used for the acquisition and improvement of facilities, purchase of firetrucks, firefighting, personal protective equipment, and emergency and rescue equipment.
Of the said amount, PHP737 billion is appropriated in the BFP specific budget under the Fiscal Year 2023 General Appropriations Act (GAA), while the PHP1 billion shall be sourced from the 80 percent of the taxes, fees and fines collected in accordance with the Fire Code of the Philippines.
"As we observe Fire Prevention month, allow us to highlight the special provision given by the Marcos Jr. administration to support the modernization of our BFP. We have provided a total of PHP1.7 billion to help equip our firefighters. This is to recognize how important they are in society as life savers in times of disasters and emergencies," Department of Budget and Management (DBM) Secretary Amenah Pangandaman said in a news release on Tuesday.
Presidential Proclamation No. 115-A declares March every year as Fire Prevention Month.
Meanwhile, Republic Act 11589 mandates the BFP, in coordination with the Department of the Interior and Local Government (DILG Philippines), to establish and implement the BFP Modernization Program geared to enhance the capability of its personnel and acquisition of state-of-the-art fire prevention, fire suppression, fire investigation and emergency medical and rescue services facilities and equipment.
The 2023 GAA provides a budget of PHP27.11 billion for the BFP. (PNA)