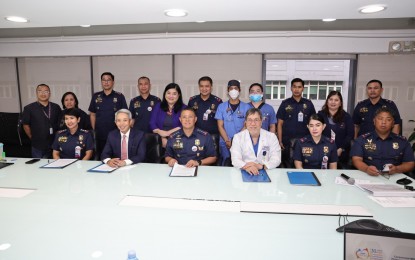 MANILA – The Philippine National Police (PNP) and the Makati Medical Center Foundation (MMCF) signed a memorandum of agreement to strengthen the organizational capacity of police hospitals and medical treatment facilities.
PNP chief, Gen. Rodolfo Azurin Jr., and MMCF chairperson Manuel Pangilinan signed the pact at the PLDT main building in Makati City on Tuesday.
The partnership aims to improve the quality of health care services for PNP personnel and their families.
Under the agreement, the MMCF will assist the PNP Health Service in developing a sustainable and strategic organizational and operational management plan, as well as professional competency, designed to strengthen PNP hospitals.
The flagship program of MMCF, the Public-Private Partnership program for the organizational strengthening of the PNP General Hospital and the PNP Health Service (HS), will provide organizational strengthening and innovation to PNP hospitals, including professional capability through various interventions, such as conferences, workshops, coaching, and mentoring sessions, and training interventions for all concerned PNP hospital management staff.
Azurin thanked the MMCF for its support for this endeavor.
"We are committed to working closely with the foundation to ensure the success of this program. We are optimistic that with this team-up, we can bring about positive changes to the PNP health service," he said in a statement on Wednesday. "We welcome the possibility of discovering new avenues for collaboration with like-minded organizations who share our goal of building a strong and resilient community focused on health and wellness."
Two doctors from HS, Capt. Christopher Estepa and Capt. Earl Brian Plaza, are undergoing residency at the Makati Med, which they will complete in 2025. (PNA)