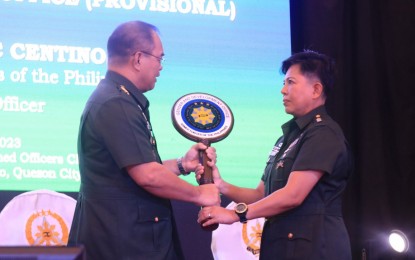 MANILA – Armed Forces of the Philippines (AFP) chief Gen. Andres Centino formally activated the military's Gender and Development Office (GADO) on Tuesday.
The move is in line with the military's gender mainstreaming efforts, AFP public affairs office chief Col. Jorry Baclor said in a statement Tuesday night.
Centino installed Col. Arlene Frage, a former Philippine Army Armor Unit company commander, as GADO's first chief during the office's activation rites in Camp Aguinaldo, Quezon City.
Frage pledged to provide a safe space for both men and women that would cater to their development.
"My commitment is to remain focused on the organizational training that will provide appropriate knowledge, skills, and attributes from the bottom to the top of our military organization," she said.
Frage, a career officer who led an all-women armor platoon in 1995 and became a company commander in 2000, noted that military personnel need to uphold themselves to a higher standard.
"We need to uphold ourselves as military personnel to higher standards to protect the dignity of all human beings. We as a thriving and dynamic organization should strive to succeed in this endeavor," she said.
Frage also paid tribute to the various women in uniform who have excelled in the military profession since the AFP began accepting women in 1963 under the Women Auxiliary Corps and later both in combat and non-combat positions.
"I am confident that under its first-ever chief, Col. Frage, our newly activated unit will lead the way in achieving our GAD goals and enabling a dynamic culture of equality among men and women in our organization," Centino said.
The AFP GADO will assist the AFP chief, through AFP GAD Focal Point System, in strengthening the gender mainstreaming efforts of the military in strategic planning, budgeting, execution, monitoring, and evaluation.
It aims to effectively integrate GAD principles into the organization's programs, activities, and projects.
It will have 34 personnel composed of nine officers, 14 enlisted personnel, and 11 civilian employees. (PNA)