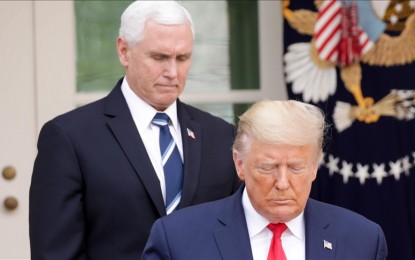 WASHINGTON – A federal judge has ordered former Vice President Mike Pence to testify before a grand jury in connection with the special counsel's investigation into the Jan. 6, 2021 insurrection at the US Capitol, reports said Tuesday.
The Washington Post, citing two people familiar with the matter, said the judge also ruled that Pence "can remain silent on topics that deal specifically with his role in Congress" on the day of the riots.
The ruling by Chief Judge James Boasberg represents another defeat for former President Donald Trump in his attempts to impede Special Counsel Jack Smith's ongoing investigation.
Smith issued a subpoena to Pence to testify in an ongoing probe into potential federal crimes related to efforts to overturn the results of the 2020 presidential election.
Both Pence and Trump challenged the subpoena on separate legal grounds.
Before the attack on the Capitol by supporters of Trump, the former president repeatedly pressured Pence to use his role in overseeing the certification of Electoral College votes to delay or block the certification of Trump's defeat.
Prosecutors have been trying to force Pence to testify about Trump's demands on him as well.
Meanwhile, people with close ties to Pence have been anticipating for several weeks that he would need to provide testimony to the grand jury to some extent, according to the New York Times. (Anadolu)