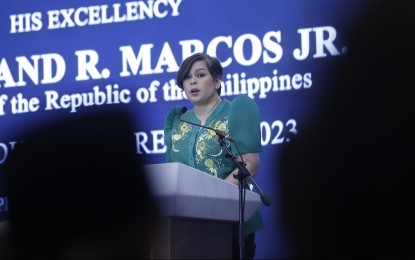 MANILA – Vice President and Education Secretary Sara Duterte on Wednesday urged the Alliance of Concerned Teachers (ACT) to stop using the "victim card" and condemn the terrorist attacks of the New People's Army (NPA) in Masbate, which have affected learners.
Duterte made the remark after the group accused her of red-tagging following her comments on the group's "unrealistic and impossible" requests.
"Part of its deceptive tactic when stripped down of its intentions – with its real political agenda exposed to the public – is to conveniently hide under the blanket of red-tagging," she said. "ACT Teachers should stop dropping the victim card around the table whenever they are exposed as sympathizers and supporters of the NPA, the Communist Party of the Philippines, and the National Democratic Front of the Philippines."
Duterte added that it is with great urgency to expose the group's intention, having been a "fake representative of learners and teachers."
"The real victims here are the learners, and the Department of Education is pouring in all our efforts to solve the problem," she said.
The ACT earlier called on the Department of Education (DepEd) to hire 30,000 teachers and allot PHP100 billion in funds for the building of classrooms annually.
The education chief, however, criticized the timing of the request, saying it was a diversion from the supposed issue of the alarming terrorist attacks in Masbate.
"If ACT Teachers stands for the education sector, it would not have ignored the NPA terrorism in Masbate that resulted in the suspension of classes in six towns of the province, affecting more than 55,000 learners and 2,815 personnel, which they claim to represent," Duterte said. "We should only take ACT Teachers seriously if it publicly condemns NPA atrocities in Masbate and all other NPA terroristic activities that hampered the learning of children across the country."
The Vice President also noted that the problems raised by ACT were not new to the sector and that solutions were already laid out in this year's Basic Education Report.
"The hiring of teachers, the hiring of administrative staff, as well as the construction of new classrooms and school buildings, are among the solutions identified and being pursued now," Duterte said.
Besides traditional solutions, the DepEd is also exploring innovative approaches, which include digitalization and the efforts to institutionalize blended learning.
Meanwhile, the DepEd said it would hire about 9,650 teachers this school year.
Duterte earlier emphasized the need to hire qualified and competent teachers to raise the quality of education amid learning recovery.
She also warned local government authorities to avoid seeking favors in schools in terms of prioritizing the hiring of politicians' relatives or friends. (PNA)