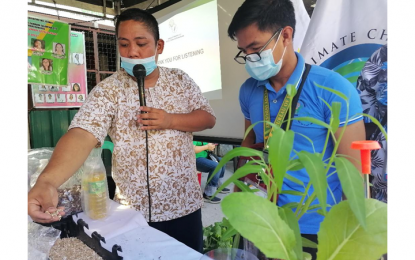 MANILA – The Bureau of Plant Industry (BPI) has conducted a forum for food security and urban agriculture in Camarin, Caloocan City to educate residents in urban gardening as a means of livelihood and self-sufficiency.
The office of Climate Change Commissioner Albert Dela Cruz Sr. conducted the forum in line with the Marcos administration's advocacy of achieving food security and economic stability for all Filipinos.
Dela Cruz is now on a trip to Taiwan to meet with possible partners and investors through his initiative to support President Ferdinand R. Marcos Jr.'s efforts for climate action in the fulfillment of the country's commitment to the 2015 Paris Agreement on Climate Change.
BPI agriculturist Ernie Bolloso from the office of National Program for Urban Agriculture director Gerald Glenn Panganiban led the forum and taught some 50 residents of Barangay Camarin in the proper way of urban gardening through the utilization of spaces in their community to plant various kinds of edible crops and vegetables.
Moral Recovery Chaplaincy Organizational Movement founding chairman Bishop Edgardo Espiritu said he is very much thankful to the Climate Change Commission (CCC) and BPI in helping educate and empower the public to achieve self-sufficiency by teaching them methods of creating their own means of livelihood.
Dela Cruz cited the significance of giving knowledge and skills to the citizenry to make them self-sufficient and resilient to the impacts of climate change that is mostly triggered by the fast-paced growth of the economy brought by industrialization.
"Alongside the fast trend of modernization with the use of mechanized technology, we are also creating problems in our environment; hence, climate change and global warming. We need to address this and only through mitigation and adaptation can we survive and help future generations attain resiliency," Dela Cruz said in a news release on Wednesday.
In his debut speech at the 77th session of the United Nations (UN) General Assembly in New York in September last year, President Marcos underscored the need for nations to invest in food security.
"We need to take concrete steps towards modern and resilient agriculture. For food is not just a trade commodity nor is it just a livelihood. It is an existential imperative, and a moral one. It is the very basis of human security," he said. (PNA)