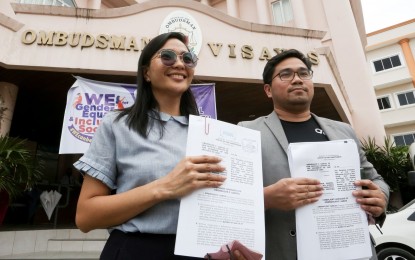 CEBU CITY – Cebu Governor Gwendolyn Garcia formally filed complaints against five officials of the Department of Agriculture (DA) and Bureau of Animal Industry (BAI) over the culling of pigs in Carcar City due to the African swine fever (ASF) virus.
In a seven-page complaint filed at the Office of the Ombudsman - Visayas, Garcia said the five officials – BAI Director, Dr. Paul Limson; BAI deputy program coordinator, Dr. Samuel Joseph Castro; BAI coordinator on ASF, Dr. Joshua Cruz; BAI regional veterinary quarantine station head, Dr. Miriam Lopez Vito; and DA 7 (Central Visayas) ASF coordinator, Dr. Daniel Ventura, allegedly violated provisions of the Anti-Graft and Corrupt Practices Act, the Local Government Code of 1991, and the New Civil Code.
The case stemmed from the officials' alleged persistent "statement regarding ASF outbreak in the province of Cebu" and imposing zone mapping and culling protocols within a 500-meter radius without consulting and coordinating with the provincial government.
"The indiscriminate culling of the pigs is in violation of the right to due process of the hog owners," the governor said, adding that "they were also not justly compensated prior to taking of their property."
Garcia said the officials' failure to exercise due course in performing their duties "has greatly affected the PHP11 billion hog industry of the province of Cebu and its economy" and had the effect of reducing the hog population, which may result in the possible importation of hogs and pork from other countries.
She wanted the anti-graft body to hold the officials administratively liable because they "haphazardly implemented a policy without thought nor prudent course of action," accusing them of not following the mandate of the agency.
The agency also ignored her executive orders against culling and color-coded zone mapping.
"There were no actual details of the findings and no explanation on their basis for declaring an outbreak. Indeed, it was even found that the positive samples from Carcar City were from a slaughterhouse and not from (the) actual backyard (piggeries)," she said, citing the negative effect of indiscriminate culling on hog raisers' livelihood. (PNA)