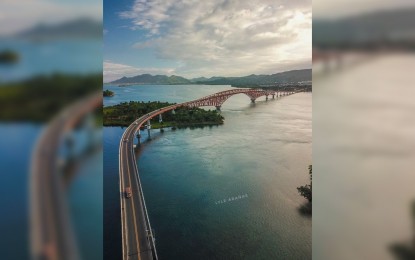 TACLOBAN CITY – The Japan International Cooperation Agency (JICA) is considering the construction of the second San Juanico Bridge as one of the top priority projects in the country, the Department of Public Works and Highways (DPWH) 8 (Eastern Visayas) said.
DPWH-8 Regional Director Edgar Tabacon said JICA would soon start gathering information to prepare the terms of reference for the project's feasibility study, which will start before the year ends.
Tabacon said JICA Southeast Asia Division Senior Deputy Director Yosuke Nishii and four other JICA officials recently met with DPWH and Regional Development Council officials to understand the rationale and eventual socioeconomic role of the bridge project in the region.
"This project is very timely, now that our existing San Juanico Bridge is on its 50-year term. And we are very much grateful if this will soon materialize," he said in an interview Wednesday.
While the proposed 1.24-km. second San Juanico Bridge only involves two lanes, Tabacon suggested that a four-lane bridge would be more effective, considering the increasing traffic.
A wider bridge will also complement the ongoing road expansion activities.
The JICA team assured the DPWH that adding more lanes would be considered and that the design of the project would be based on the results of the feasibility study, which will start in the third quarter of 2023.
Civil works for the second San Juanico Bridge are targeted to start in 2025.
In 2022, the DPWH announced that the national government would need PHP9.17 billion to build the second San Juanico Bridge connecting the islands of Leyte and Samar.
The proposed bridge will connect the towns of Babatngon, Leyte and Sta. Rita, Samar.
It will cross the Janbatas Channel, a portion of the San Juanico Strait that separates the region's two major islands.
The proposed bridge will start in Guintigui-an village in Babatngon, Leyte, and will end in San Pascual village in Sta. Rita, Samar.
In 2019, traffic volume on the San Juanico Bridge stood at 7,200 vehicles daily, close to its 10,000 daily capacity.
In 2030, it is expected to increase to 10,900 daily, more than its limit, and 15,900 by 2040.
Built in 1973, the existing 2.16-km. San Juanico Bridge faces many issues, such as aging and high maintenance costs. (PNA)