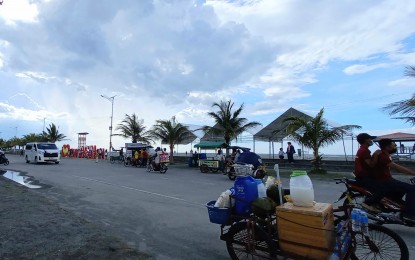 MALASIQUI, Pangasinan – The Pangasinan Provincial Disaster Risk Reduction and Management Office (PDRRMO) will be in full force next week in anticipation of the influx of tourists during the Holy Week.
In an interview on Wednesday, PDRRMO operations head Vincent Chiu said a series of cluster meetings are being held with the concerned national government agencies and other stakeholders to formulate effective guidelines.
"We are expecting more tourists to come since the restrictions have eased unlike in the past years," he said.
Chiu said an incident command post, together with the five existing towers or lifeguard posts, will be set up along the Lingayen Gulf.
"Water Search and Rescue Team will be there, as well as the personnel of the Provincial Health Office while ambulances will be on standby," he said.
The PDRRMO will be focusing on its beach protocols, specifically along the Lingayen Gulf, and also in the beach and river areas in the different parts of the province.
Chiu said jellyfish sting and near-drowning incidents are prevalent during the holidays at the beach.
"PDRRMO will issue guidelines in coordination with the local government units to ensure the safety of the people," he said, adding that different localities have different sets of guidelines to follow depending on the situation in their jurisdiction.
He urged the public to abide by these protocols to avoid inconveniences.
Meanwhile, the Pangasinan Provincial Police Office (PPPO) and the Department of Public Works and Highways will set up a total of 52 motorist assistance centers in Pangasinan for the Holy Week.
PPPO information officer Capt. Renan dela Cruz, in a recent interview, said a total of 456 personnel would be deployed throughout the holiday, including those who will man 48 of the assistance centers. The rest will be manned by DPWH personnel.
He said the assistance centers will help motorists and tourists in terms of directions or emergencies and provide police visibility, which is a deterrent to crime.
"There will be maximum deployment and constant mobile patrolling, especially in places of convergence, such as tourist destinations. We are expecting an influx of tourists since this is the first Holy Week without the restrictions," he added. (PNA)