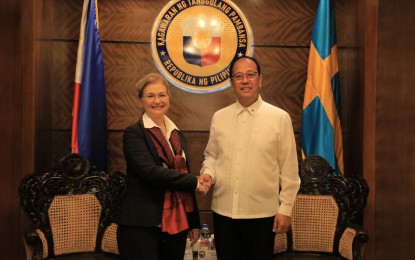 MANILA – The Philippines and Sweden are looking forward to concluding a framework for defense materiel acquisition.
This came after Department of National Defense (DND) chief Carlito Galvez Jr. met with Swedish Ambassador to the Philippines, Annika Thunborg last March 24.
"The officials discussed updates on the Philippines' defense modernization efforts, particularly on the priorities of the Philippine Air Force (PAF) to boost its surveillance and interdiction capabilities," DND spokesperson Arsenio Andolong said in a statement Thursday.
Andolong said relationships between the Philippines and Sweden are good as both countries have partnered for peace works.
With growing defense ties between the two countries, Galvez and Thunborg are looking forward to the negotiation and conclusion of a framework on defense materiel acquisition.
"Both sides also explored the possibility of visits of delegations in the future," Andolong added.
Earlier, Sweden's offer to supply Saab-made JAS-39 "Gripen" multi-role fighters (MRF) to the Philippines was among the key topics discussed by then DND officer in charge Jose Faustino Jr. during a meeting with Thunborg last Dec. 21.
The two officials discussed "mutual interests in the field of defense". The JAS-39 "Gripen" is one of the two jet fighters eyed by PAF to fulfill its MRF requirement.
"The OIC, DND and the Swedish Ambassador discussed the PAF MRF acquisition project and the offer of Swedish defense and aerospace company Saab AB of Gripen aircraft, which has been on the PAF's shortlist," Andolong then said.
Another contender in the PAF's MRF acquisition program is the Lockheed Martin F-16V "Viper" jet fighter.
The MRFs are expected to backstop the military's existing fleet of 12 South Korean-made Mach 1.5 capable FA-50PH light jet fighters.
The requirements for the MRF project stipulate that the offered aircraft must be "fourth generation or higher."
The project also requires 12 MRFs at least capable of patrolling the country's protected waters and airspace.
The MRF project is supposed to be part of Horizon 2 of the Armed Forces of the Philippines (AFP) Modernization Program slated for 2018 to 2022, which aims to acquire more equipment for external defense.
Any aircraft that will be selected must be able to integrate with existing radar systems that have a range of about 250 nautical miles. (PNA)