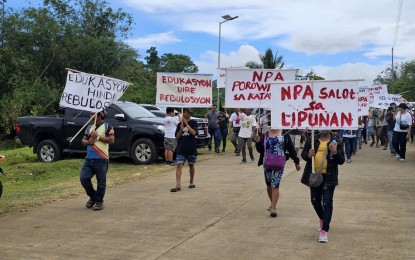 TACLOBAN CITY – Some 121 former New People's Army (NPA) members and their supporters formally declared their withdrawal of support to the rebel group in Ormoc City, the Philippine Army reported on Thursday.
These former rebels joined an oath of allegiance to the Philippine government during the Founding Assembly of Ormoc Integrated Peace and Development Workers Federation (OIPDWF) ceremony on Wednesday in Quezon Jr. village in Ormoc.
These former rebels are from the rural villages of Boroc, Donghol, Gaas, Guintigi-an, Hugpa, Lake Danao, Nadongholan, and Quezon Jr., all in Ormoc.
Army's 802nd Infantry Brigade commander Brig. Gen. Noel Vestuir said their withdrawal of support from the communist group is a sincere manifestation of their commitment to being part of the whole of the nation approach to end the local communist armed conflict.
The former rebels also held a peace and indignation rally to express their sentiments about the former CPP-NPA-NDF members and supporters, and their condemnation of the armed struggle.
Vestuir said as partners of the government in attaining the objective of ending the local communist armed conflict, the former mass supporters organized themselves into village-level integrated peace and development workers associations and city-level federations.
These associations and federations will be registered with the Department of Labor and Employment and the Securities and Exchange Commission, respectively, for them to be duly accredited by their respective local governments.
Vestuir has called on the remaining NPA members to surrender and avail of the government's enhanced-comprehensive local integration program and live peaceful and decent lives with their families and loved ones. (PNA)