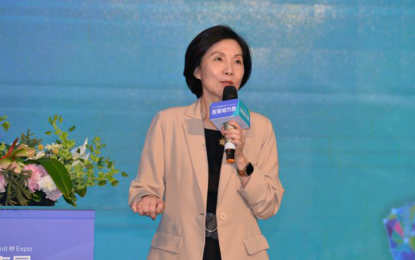 TAIPEI, Taiwan – The 10th Smart City Summit & Expo (SCSE) has attracted more than 1,500 visitors from various countries and regions, surpassing its previous record number of participants before the pandemic.
The exhibition, held in Taipei from Tuesday to Friday, and in Kaohsiung from April 1 to 4, was visited by corporate delegates and officials of municipal and city governments around the world.
It showcased forums and exhibitions on the latest innovations and applications of 5G, the Internet of Things (IoT), artificial intelligence (AI), and other technologies for smart cities.
During her speech at the Net Zero City Exhibition in Taipei on Tuesday, Taiwan Smart City Industry Alliance (SCIA) president Jing Qi said the 10th SCSE has also increased its scale by 30 percent compared with last year.
It featured several different topics, such as smart building led by the Smart Building Association, smart health care led by the Medical Quality Policy Council, smart education led by the Digital Education Research Institute, and the net zero city.
READ: Building smart cities through 5g technologies, PPPs
Net zero is the state of balance between producing and removing greenhouse gases from the atmosphere.
Qi said the net zero city exhibition is a new addition this year, supported by the National Development Council (NDC) as co-organizer and five other ministries as partners.
The exhibition showcased the net zero targets and implementation strategies of each ministry, as well as the Taiwan Net Zero Vision Pavilion.
The exhibition also provides a platform for government officials all over the world to exchange experiences and insights on smart cities or net zero carbon reduction.
The SCSE will host three major events – the Smart City Heads Summit hosted by the Taipei City government, the Sustainable Cities Forum hosted by the Kaohsiung City government, and the Net Zero Cities International Summit organized by NDC.
"We also hope that through this exhibition, we can establish Taiwan's image as a leading smart city and bring more opportunities for substantive diplomacy for Taiwan," she said. (PNA)