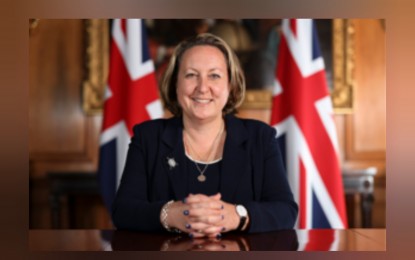 MANILA – The United Kingdom (UK) is looking at viable green energy and infrastructure projects in the Philippines where its £8 billion fund from the British Investment Partnerships (BIP) can be invested.
UK Minister for Indo-Pacific Anne-Marie Trevelyan launched the BIP in the Philippines Thursday at The Peninsula Manila in Makati City.
The BIP mobilizes funding from the British private sector and also provides technical expertise to support the Philippines' sustainable infrastructure development and the transition to clean energy.
"Through British Investment Partnerships, we will support the development of high-quality, sustainable infrastructure to accelerate the transition to clean energy and secure a prosperous and resilient future for the Philippines," Trevelyan said.
British Ambassador to the Philippines Laure Beaufils said the £8 billion fund from the BIP was launched by the UK last year and was only launched in the Philippines this day.
Although it was just launched in the country this year, the BIP has funded a USD25-million solar project in Negros Island.
Beaufils said the share of the Philippines in the £8 billion BIP fund will depend on the projects that the UK companies will be interested in investing into.
"This is not (the) British government that will be choosing, and we have development finance institutes that will be identifying, and then they will do their due diligence… So we're really keen to encourage people to put projects and ideas to us because the more there is a robust pipeline, the more money will be invested in the Philippines," the British envoy told reporters on the sidelines of the event. (PNA)