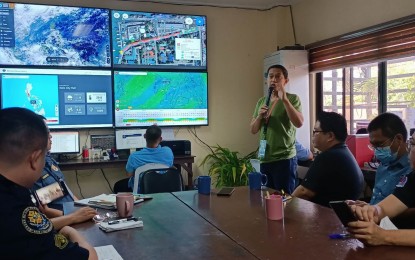 ILOILO CITY – The local government here is ready to implement its "Oplan Semana Santa" for a safe observance of Lent next week.
On Good Friday, more or less 18,000 pilgrims and visitors are expected to travel by sea to the nearby Guimaras province via Iloilo.
Darwin Papa, head of the Quick Response Division of the Iloilo City Disaster Risk Reduction and Management Office (CDRRMO), said on Thursday the public is excited about the resumption of face-to-face events for this year's "Semana Santa" after the pandemic.
"In the past years, we have observed that Semana Santa has drawn a big crowd. In 2019, the Semana Santa drew a crowd of roughly 18,000 that resulted in a long queue going to Guimaras," he said in a press conference.
Guimaras holds crowd-drawing events during the Holy Week, including the "Pagtaltal", which is a reenactment of the Passion of Christ.
With the Oplan Semana Santa, Papa said they aim to avoid tragic incidents such as a stampede or sea mishaps due to the convergence of large crowds.
Papa said the city's Emergency Operations Center (EOC) will operate starting April 3, to be manned by personnel of the Bureau of Fire Protection, Philippine Coast Guard, Iloilo City Police Office (ICPO) and the Public Information Office.
There will be 12 ambulances, 48 fire engines and seven rescue vehicles that will be on standby.
EOC incident commander Jeck Conlu said they will ask the Maritime Industry Authority (MARINA) to allow the travel of passengers from Iloilo going to Guimaras starting at 4 a.m. instead of the regular 4:30 a.m. schedule.
"The whole berthing area will be manned by the Philippine Coast Guard. As allowed by MARINA, passengers will have to pay for their tickets and sign the manifest onboard the modernized boats to avoid delays," Conlu said.
A total of 16 modernized boats and four roll-os, roll-off vessels will ferry passengers from Iloilo City to Guimaras and vice-versa.
Meanwhile, the ICPO will deploy personnel to 57 areas all over the city, including the "parola" (lighthouse) terminal, to ensure peace and order, and security.
Conlu said in addition to the parola wharf, they will also monitor other convergence areas in the city, especially during the celebration of Easter Sunday on April 9. (PNA)