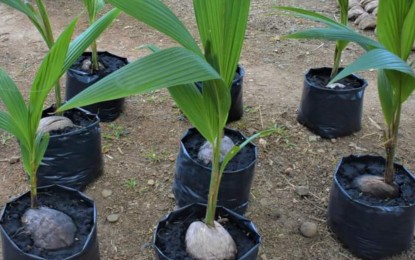 BACOLOD CITY – An on-farm coconut hybridization site has been established in Manapla, Negros Occidental as part of the implementation of the Coconut Farmers and Industry Development Plan-Coconut Hybridization Project in Western Visayas.
Situated in Barangay Purisima, the Manapla Hybrid Seednut Production Center owned by Jose Gerardo Francisco III is one of the only three sites in Region 6, a report of the Philippine Coconut Authority (PCA) on Thursday showed.
"I would like to congratulate and thank Mr. Francisco and his family for allowing us to utilize their farm for our program to expedite the replanting and propagation of the hybrid seeds," said PCA Administrator Bernie Cruz, who led the project launching on March 28.
Hybridization of coconuts is a process of crossing two genetically different individuals resulting in a third individual with a different, often preferred, set of traits.
Through the project, the PCA intends to mass produce single cross, high-quality coconut hybrids, following standard hybridization protocols and good agricultural practices for distribution to the farmers and other coconut industry stakeholders.
The Francisco family farm has been selected as a hybridization site as it has been a recipient of technical assistance from the PCA-6 and the Zamboanga Research Center Plant Genetics Resources Conservation and Utilization Division since 2015.
"We will do our best to make this project a success. Thank you very much, PCA for being with us all these years," Francisco said.
PCA-6 Regional Manager Neil Melencion said the hybridization program aims to produce good quality seednuts and increase coconut production "from one ton per hectare per year to four to six tons per hectare per year".
"The key to the future of coconut industry is the quality of seedlings that will be used in establishing a plantation," he added.
Governor Eugenio Jose Lacson thanked the Department of Agriculture and the PCA for choosing Negros Occidental to be part of the Coconut Hybridization Program.
"The modernization of the coconut industry is imperative. The launching of the Hybrid Seednut Production Center is both timely and strategic," he added. (PNA)