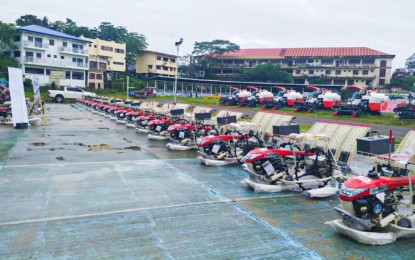 BUTUAN CITY – Thirty-seven accredited rice-based farmers' cooperatives and associations in Surigao del Sur province have received PHP81.96 million worth of farm equipment from the Department of Agriculture in the Caraga Region (DA-13).
In a statement Friday, the DA-13 said the farm machinery and equipment were released under the Rice Competitiveness Enhancement Fund (RCEF).
The agency's Philippine Center for Postharvest Development and Mechanization (PhilMech) handed over the various kinds of farming apparatus to the beneficiaries Thursday at the provincial sports complex in Tandag City.
"The release aims to make accessible to the rice farmers in Surigao del Sur the appropriate rice production and postharvest machinery," the DA-13 said.
Led by DA-13 Regional Executive Director Ricardo Onate Jr. and Surigao del Sur Governor Alexander Pimentel, the distributed farm equipment included six units of hand tractors, six floating tillers (boat type), three floating tillers (turtle type), and 26 walk-behind transplanters.
In addition, two units of riding-type rice transplanters, two rice reapers, 14 combine harvesters, 13 recirculating dryers, a mobile rice mill, and a single-pass rice mill were also dispensed to the cooperatives.
"We encourage the farmer-beneficiaries to be responsible in taking charge of the interventions they received," Onate said.
The farm machinery, he added, will help the farmers improve their income and ability to compete globally through access and use of appropriate mechanization technologies from planting to postharvest. (PNA)