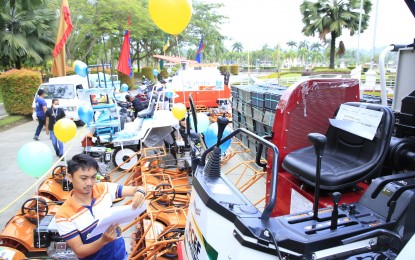 DAVAO CITY – Thirty-one farming cooperatives in three regions in Mindanao are beneficiaries of some PHP30 million worth of assistance from the government, officials reported Friday. I
n the Davao region, around 26 qualified farmers' cooperatives and associations (FCAs) in Davao de Oro province received Thursday farm machinery worth PHP24.18 million from the Department of Agriculture (DA).
In a statement, Governor Dorothy Gonzaga said the equipment, coursed through the Philippine Center for Postharvest Development and Mechanization (PhilMech), would advance the farming ventures and increase the income of the FCAs-beneficiaries.
"I am so happy to see this equipment. It might not have come from the provincial government, but our provincial agriculture office is finding ways to help the farmers through these provisions," she said.
Supported by the Rice Competitiveness Enhancement Fund (RCEF) Mechanization Program, a total of 45 units of farm machinery were distributed to the FCAs.
The equipment included a hand tractor, floating tiller, precision seeder, walk-behind transplanter, riding-type transplanter, combine harvester, mobile rice mill, and single pass.
In the Caraga region, four cooperatives in Dinagat Islands province also received PHP2.8 million worth of cash incentives in a turnover ceremony held Thursday.
In a statement, the Dinagat Islands information office said the incentives were derived from the provincial government and were personally handed over to the cooperatives by Gov. Nilo Demerey Jr.
"Our cooperatives can utilize the incentives to further develop their respective economic ventures and other economic activities," Demerey said.
The coop recipients included the Dinagat Islands Capitol Employees Multi-Purpose Cooperative with PHP1 million worth of incentives; Dinagatnon Multi-Purpose Cooperative (PHP1 million); New Nazareth Multi-Purpose Cooperative (PHP500,000); and the Sto. Nino Mountain View Multi-Purpose Cooperative (PHP300,000).
Meanwhile, in the Soccsksargen region, farmers who belonged to the Agrarian Reform Beneficiary Organizations (ARBOs) in Alamada town, North Cotabato province also received Thursday a PHP2.6 million farm tractor from the Department of Agrarian Reform (DAR).
Evangeline Bueno, DAR provincial agrarian reform program Officer (PARPO), identified the recipient of the brand-new tractor as the Alamada Multi-Purpose Cooperative (AMPC).
The cooperative received the 90hp (horsepower) four-wheel drive tractor under the agency's Climate Resilient Farm Productivity Support Program. Supplementing the tractor donation are implements that included a one-disc plow, one-disc harrow, and a trailer funded under the Agrarian Reform Fund.
"It is expected to boost the agricultural productivity of the ARBs and other farmers in the area by increasing the efficiency of their farm activities, especially in land preparation," she added.
The Alamada ARBO has 5,331 members. (PNA)