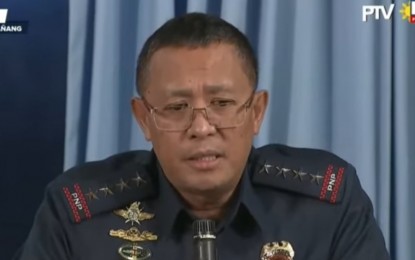 MANILA – The five-member advisory body looking into the possible involvement in illegal drugs of senior officers of the Philippine National Police (PNP) is aiming to finish the vetting process before PNP chief Gen. Rodolfo Azurin Jr. reaches the retirement age of 56 on April 24.
"Nagra-wrap up na lang kami (We are just wrapping up). We hope before I retire, we can submit our official report to the President through the Napolcom (National Police Commission). Because the Napolcom will have to review the recommendation of the five-man advisory group for them to check our recommendations before forwarding for approval or denial ng ating (of our) President Ferdinand R. Marcos Jr.," Azurin told reporters in a chance interview on Friday in Camp Crame.
Napolcom is chaired by Interior Secretary Benjamin Abalos Jr. and includes Azurin as an ex-officio commissioner.
The five-man committee is composed of Azurin, retired police general and Baguio City Mayor Benjamin Magalong, Office of the Presidential Adviser on Military Affairs Undersecretary Isagani Nerez, former Defense Secretary Gilbert Teodoro and retired Court of Appeals Justice Melchor Sadang.
Azurin said the advisory group has already processed around 90 percent of the courtesy resignations of more than 900 police generals and colonels as of last week.
The PNP chief said that it will be up to President Marcos to decide to deny or accept the courtesy resignations of the concerned generals and colonels based on their recommendations, or divulge their names.
"I think that is up to our President. He is the final authority to decide because on the part of the advisory group, we are (just) recommendatory, and then review of Napolcom for final submission to the President. So, it's the President who will do the denial or approval of the courtesy resignations of every third-level officer," Azurin said.
He said the vetting process is more of a document review and assessment which involve "backtracking" on past incidents and possible involvements while the officers were still in the positions, while at the same time observing due process.
"We have to give them due process, for them to explain their possible involvement if there is, and then, likewise, we have to check the documents that will be submitted for evaluation to the Napolcom if these are admissible evidence," Azurin said. (PNA)