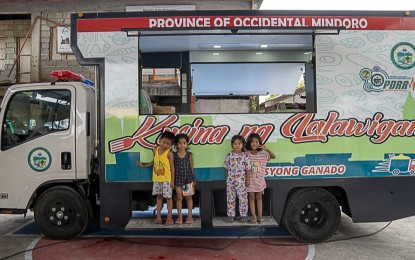 POLA, Oriental Mindoro – Governor Humerlito Dolor wants this province to be declared under a state of calamity due to the oil spill that has taken a toll on the livelihood of residents, mostly fishers.
In an interview on Thursday, Dolor said he has requested the Provincial Disaster Risk Reduction and Management Office (PDRRMO) to recommend the declaration for the whole province after grease and oil were found in two more towns -- Baco and San Teodoro.
Earlier, several towns of the province were already placed in a state of calamity, namely Naujan, Pinamalayan, Gloria, Bansud, Bongabong, Roxas, Mansalay and Bulalacao.
"The fishing ban also affects even the non-coastal areas of Socorro and Victoria towns because people are not buying fish," said Dolor.
The Department of Agriculture-Bureau of Fisheries and Aquatic Resources (DA-BFAR) recommended a fishing ban in the oil spill-affected towns in Oriental Mindoro, according to its bulletin on Thursday afternoon.
Water samples collected and analyzed from the affected municipalities from March 9-12 showed minimal levels of oil and grease, within the standard stated by the Department of the Environment and Natural Resources in Administrative Order 2016-08 for fishing areas (< 3.0 mg/L oil and grease), the bulletin said.
It identified the affected areas as Bansud, Bongabong, Bulalacao, Gloria, Mansalay, Naujan, Pinamalayan, Pola, Roxas and Calapan City in Oriental Mindoro and Caluya in Antique province.
The bureau said it recommended keeping fishing bans in these municipalities since the initial analyses were not yet conclusive evidence as far as food safety is concerned.
Meanwhile, the provincial government of Occidental Mindoro, to help its neighboring province has deployed a mobile kitchen serving meals to more than 3,000 residents of two heavily-affected villages in Pola town here by the oil spill.
"Our operations are still ongoing," said Occidental Mindoro Disaster Risk Reduction and Management Officer (DRRMO) Mario Mulingbayan, in an interview on Friday morning.
On the first day of the "Mobile Kusina" on Wednesday, officers and representatives of DRRMO, Operations and Warning Division Office and the Social Welfare and Development Office, provided 1,300 residents in the heavily affected village of Batuhan with hot meals that included "lugaw" or rice porridge and packed lunch.
On Thursday, a total of 1,750 residents were served at the open court in Barangay Calima.
Calima village chief Leodegario Fetizanan, in an interview, said daily food has become a concern for the majority of the residents of their fishing village because of the fishing ban resulting from the oil spill incident. (PNA)