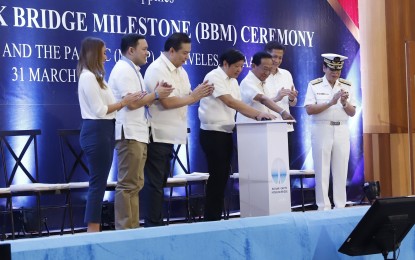 MANILA – President Ferdinand R. Marcos Jr. said Friday the PHP175.6 billion Bataan-Cavite Interlink Bridge (BCIB) project is seen to boost the regional economies of the two provinces through improved connectivity.
During the bridge's milestone ceremony in Mariveles, Bataan, Marcos said new economic opportunities would open to Bataan and Cavite and their surrounding provinces because of the easier access that will be made available through the bridge project.
The President noted that the BCIB is projected to reduce the Central Luzon - Calabarzon travel time from 5 hours to just 45 minutes, cutting as much as 86 percent.
"That will be an incredible feat when it happens and would significantly help in decongesting Metro Manila as motorists will be able to travel without passing through the metropolis," he said.
He said the bridge, once completed, would also help bring prices down for goods and services as the transport and logistics costs would decrease, thus generating immense savings all around.
The project will also support the development of seaports in the two provinces, making them potential international shipping gateways of the country, he added.
"As such, I assure you, we will remain committed to developing a highly interconnected network of transport (infrastructure) that will serve as the backbone and strong driving force of our rapid, inclusive, and sustainable (economic) growth," he said.
Marcos called on the officials and employees of the Department of Public Works and Highways, as well as all the consultants to remain committed to finishing this project on schedule.
"Do your best always to ensure that civil works for this bridge will commence by October this year," he said. "Do your best also to deliver what we have proposed so that our people and their localities may live out the picture we have painted as our goal as soon as possible."
The 32.15-km., four-lane, inter-island bridge will connect Barangay Alas-asin in Mariveles, Bataan and Barangay Timalan Concepcion in Naic, Cavite and once completed, it will be the longest bridge in the Philippines.
The BCIB will have two navigational bridges: the 400-meter North Channel Bridge and the 900-meter South Channel Bridge, which will traverse Corregidor Island. About 80 percent of the structure will be over the sea.
Primarily funded through Official Development Assistance loans from the Asian Development Bank (ADB), with co-financing from the Asian Infrastructure Investment Bank, BCIB's construction is expected to last for 60 months and is scheduled to be completed by the end of the third quarter of 2028. (PNA)