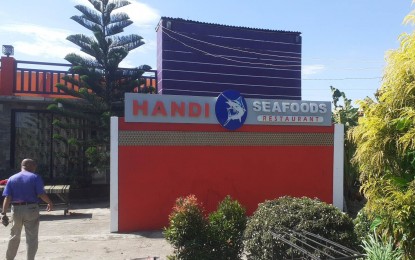 BACOLOD CITY – A policeman was killed while his two colleagues were injured after they were stabbed while trying to pacify a commotion outside a drinking joint in Murcia, Negros Occidental early Friday morning.
Two civilians also died while another was wounded during the incident that happened past 1 a.m. at Handi Seafoods Restaurant in Barangay Salvacion.
"There was a commotion outside. They went out to pacify the situation but they were attacked instead," Maj. Marc Joeil Reclamado, town police chief, said in an interview.
The fatalities were identified as Cpl. Gabby Castillo, a resident of La Carlota City; Benedict Maguad, of Barangay Zone V, Murcia; and Marvin Guardavilla, of La Castellana.
Those injured were Staff Sgts. Namelou Sapuan, of Barangay Bernabe, Murcia; and Jaytie Misme, of Tabao, Barangay Zone IV, Valladolid; and restobar owner Fernando Diaz, of Barangay Sta. Cruz, Murcia.
The three policemen are members of the 2nd Maneuver Platoon of 2nd Negros Occidental Provincial Mobile Force Company based in Barangay Dulao of the neighboring Bago City.
The three suspects were identified as Marjune Gallano and Jojie Gallano, both of Barangay Canlandog, and Ching Jingco, of Barangay Zone 1, all in Murcia.
Marjune and his companions were arrested during a hot pursuit operation and are now detained at the Murcia Municipal Police Station.
Initial investigation report showed that Marjune Gallano had a conflict with Guardavilla, whom he stabbed first, then attacked the five other victims.
Aside from being stabbed, Misme also sustained a gunshot injury.
The two wounded policemen have been treated at a private hospital in this city while Diaz has been confined in another hospital.
Investigators recovered the Glock 17 9mm service firearms of Castillo and Misme.
According to the police report, the three policemen, riding in Castillo's vehicle first went to Sapuan's home, then together with Maguad, they stopped by the restobar before supposedly going back to their headquarters. (PNA)